Literature
Channeling Her Creativity with Bob Edwards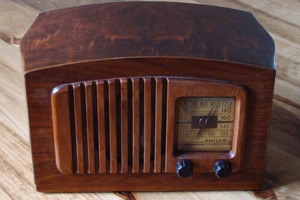 Kim Dawson has worked as a producer for The Bob Edwards Show for a year now, but she still gets excited when she goes to work every day.
"I like telling stories, and I like hearing stories—I always have," the AU literature and creative writing, BA '07, MFA '11, alumna said. "Being on the radio and working with Bob Edwards specifically, I get to do that."
After earning her undergraduate degree in literature Dawson returned to earn a master of fine arts because she felt there was more for her to learn from her professors.
"I knew coming into the MFA program that I wanted to learn to write for different fields: the stage, the page, and the ear," she said.
In her last year of graduate school, Dawson got an internship at Sirius XM with the BookRadio channel. Before that, she said, she had never thought about working in radio.
"I thought I was going to be like every other graduate student and get a PhD," she said. "Whoever took me is where I was going to go."
Working at Sirius XM changed all of that. Dawson said she had the opportunity to create commercials, write scripts, edit audio, and interview authors. She does similar tasks for The Bob Edwards Show, but it's not just a list of tasks that need to be completed.
"The heart of what I do is creative," she said. "Bob interacts consistently with his producers—we talk about new topics and ideas all the time. Since he trusts us, I get to produce long-form documentaries on women's issues, dance, identity, poverty, race, class, and international affairs."
Dawson said Edwards—an alum of AU's School of Communication—has encouraged her from day one.
"On my first day of work, Bob handed me three books on radio journalism and said, 'Learn, and be creative!' And he's given me the tools, the resources, and the paycheck to do it," she said.
One question Dawson said she constantly heard in graduate school still follows her around at her job today—so what? She said what she learned at AU—to ask 'so what?' and fight with ideas—is critically important to her everyday work.
"In media and consumer culture in general, that kind of critical thinking can only help create new ideas and challenges," she said.
Two AU professors who engrained those critical thinking skills in her at the undergraduate and graduate level were Keith Leonard and Madhavi Menon. Dawson said Leonard helped her with ideas for her papers, poems, and thesis, and expanded her thinking about African American literature and identity. She said going to Menon's classes made her want to learn everything her professor knew.
"Like most students, I feared her questions, even when I did the assigned reading," she said. "But I loved the torture. It felt good to be teased with that much knowledge and expectation."
Dawson said her advice to students interested in going into radio or getting their MFA is to learn everything you can.
"As soon as you feel like you know enough, get familiar with a new aspect of your genre," she said. "Explore all the little secrets of your intellect, things you might be interested in that involve writing even if indirectly."
Dawson said she continues to learn daily how to be a better producer and an effective communicator. So far, the "learn everything" strategy has worked well for her.
"I have a job that I love!" she said simply.