Sculpture Now 2014:WSG 30th Anniversary November 8 through December 14, 2014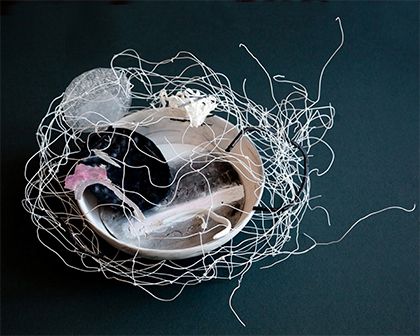 Mila Kagan, A Stone, A Leaf, An Unfound Door, 2014.
Wire, resin, bubble wrap, ceramic, kuzo, wood, and plaster
24 x 30 x 24 in.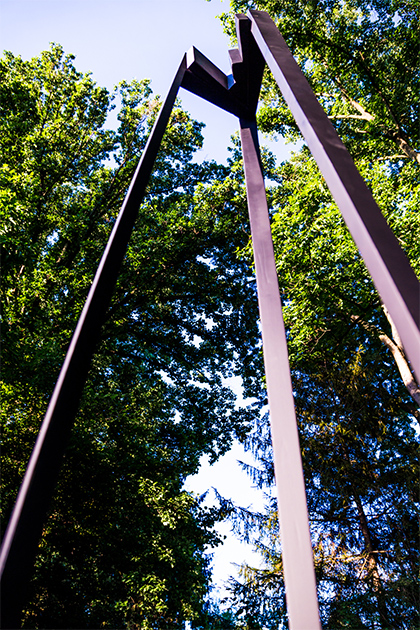 Garrett Strang, Nightwatch, 2014.
Wood and graphite.
9 ft x 30 in x 16 in.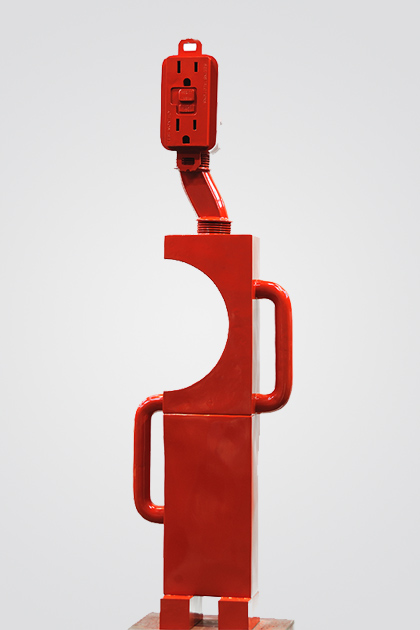 Carol Brown Goldberg, Secret Totem, 2014.
Painted bronze.
120 x 34 x 12.5 in.
Collection of the Artist.
Exhibition Overview
The Washington Sculptors Group celebrates its 30th anniversary by bringing together a diverse collection of current sculptural art. The notion of sculpture has evolved dramatically in the last thirty years. In 1978, the art theorist Rosalind Krauss declared that sculpture as a discipline had collapsed because of the wide range of practices. More recently Johanna Burton remarked that the category of sculpture had not collapsed but was rather "a state of being." This exhibition endeavors to respond to Krauss and Burton's speculation with a selection of contemporary sculpture.
Pieces chosen for the show will highlight the vibrant state of sculpture today and display an array of materials including steel, wood, stone, plastic, drywall, fabric, and more. The show is curated by Jack Rasmussen, director and curator of the AU Museum.
Participating Artists: Greg Braun, Garrett Strang, c.l.Bigelow, Lynda Smith-Bugge, Janet Wheeler, Mike Shaffer, Dalya Luttwak, Elizabeth Burger, Mila Kagan, Jin Lee, Julie Zirlin, Mary Early, Joel D'Orazio, Elizabeth Miller McCue, Julia Bloom, Foon Sham, and Carol Brown Goldberg