Outliers:
Kurt Godwin and Betsy Packard
June 13 through July 26, 2015
Kurt Godwin, Second Key, 1998.
Acrylic, 46 x 54 in.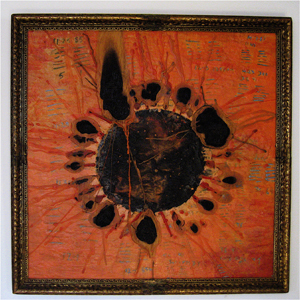 Betsy Packard, Summer (6/87), 1987.
Wax on wood, 26.5 x 27 in.

Exhibition Overview
Curated by J.W. Mahoney, Outliers is a dialogue between two Washington-area artists who have been working outside the boundaries of mainstream contemporary art for over three decades. Kurt Godwin (1956-2014) and Betsy Packard have effectively transformed ordinary objects, found images, and simple matter into fundamentally new conditions of meaning. Such expansions of art's real possibilities are what Outliers do.
Related Programming
June 25, 5:30-6:30 pm: Gallery Talk with the Curator J.W. Mahoney in the Museum
July 10, 1:30-2:30 pm: Poetry Reading in the Museum