Cultural Treasures from Shandong Province:  Ancient Chinese Pictorial Stone Rubbings May 19 through May 31, 2015
Detail from, The Stele of Yi Ying
The Eastern Han Dynasty 153, 78 x 36 in.
Courtesy of the Shandong Carved Stone Art Museum.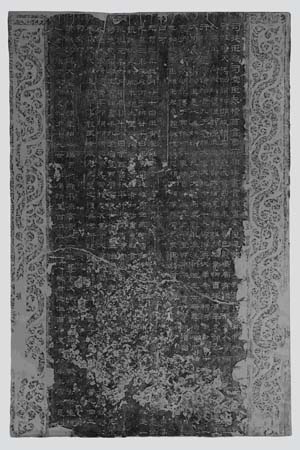 The pictorial stone of Songshan Ancestral temple,
The Eastern Han Dynasty 157, 29 x 27 in.
Courtesy of the Shandong Carved Stone Art Museum.
Exhibition Overview
The stone carving artworks in China's Shandong province play an important role in preserving the country's ancient culture. For two weeks, the AU Museum will display a collection of rubbings that exhibit the fine calligraphy, folk inscriptions, and imagery of these carvings.   
This special exhibition contains more than 60 kinds of stone inscriptions of the Qin and Han Dynasties in the Shandong province of eastern China.  During the 7th century, the Chinese began to use a method of stone rubbing with paper and ink in order to make multiple copies of these inscriptions. The rubbings (also known as inked squeezes) preserved the inscriptions better than the stone itself. 
Organized in coordination with the Shandong Provincial Cultural Heritage Bureau and the Shandong Stone Carving Arts Museum. Supported by the Ren Foundation.