Media Contact:
Rebecca Basu
202-885-5950
basu@american.edu
American University Museum
4400 Massachusetts Avenue NW
Washington
,
DC
20016
United States
Maggie Michael: A Phrase Hung in Midair As If Frozen January 23 - March 13, 2016
Maggie Michael, No Symbols Where None Intended, 2015.
Ink, latex, enamel, and charcoal on canvas, 66 x 94 in.
Courtesy of the artist and G Fine Art.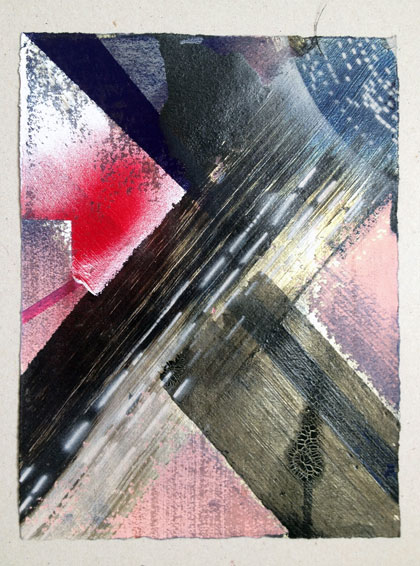 Maggie Michael, Ghent Series: Pairing Day and Night, X, 2014 .Pigment, ink, hair from brush and spray paint on paper.
Exhibition
This mid-career survey features the work of Washington, DC-based artist Maggie Michael from 2002 to the present day. Her paintings-at once intuitive and conceptual-are a direct response to the world around it. Michael's work serves as a platform for exploring physicality, the workings of language, literature, and the vagaries of emotion and information. Beginning with her series of Clones in 2002, in which she created pairs of improbably identical pours of paint, Michael has pursued an approach based as much in chance and the felicity inherent in her medium as in control. Michael describes her work as "pausing the flow of time," embodying a record of a particular experience as well as forming an experience in itself.

"Wrestling control of her inherently fluid medium, Michael's work can be seen as reckoning with painting's dual nature, at once dynamic and still. Within individual works she achieves an exquisite tension between those states, but the arc of her career more generally can be seen as a back-and-forth between them. Beginning in 2002, Michael has pursued her work withinn the confines of discrete series, which follow a broad pattern that veers between (deceptive) simplicity and (controlled) complexity."
-Sarah Newman, Exhibition Curator
Excerpt from the exhibition catalog, available in the museum shop.
Read the Reviews:
Washington City Paper reviews A Phrase Hung in Midair as if Frozen