Media Inquiries:
AU Communications
aumedia@american.edu
202-885-5950
American University Museum
4400 Massachusetts Ave NW
Washington
,
DC
20016-8031
United States
Radical Link: A New Community of Women, 1855-2020 Michal Heiman
Curated by Sarah Gordon
November 9-December 15, 2019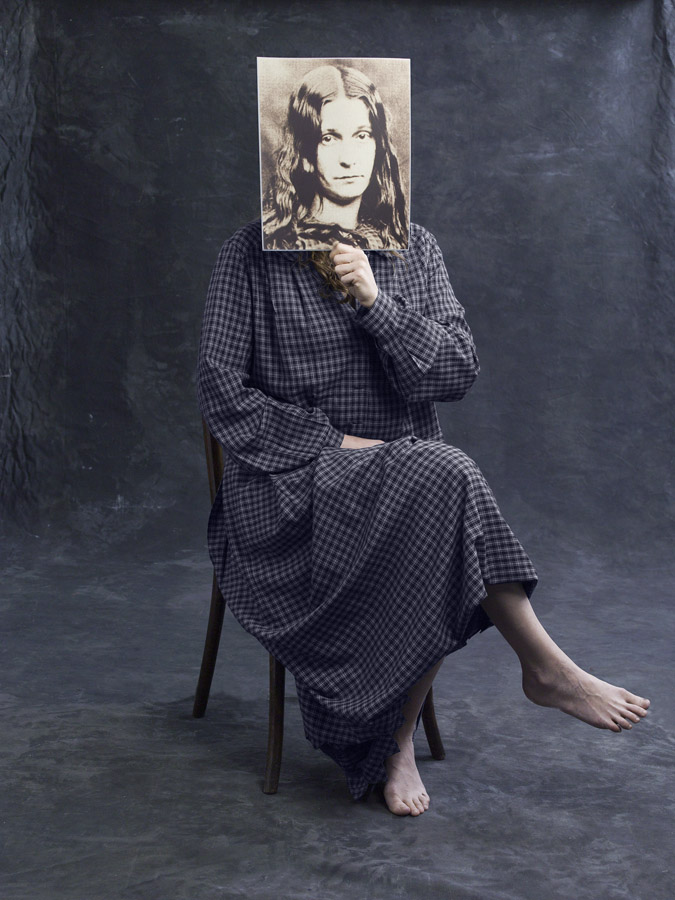 Michal Heiman, Mask: detail from "Plate 34" by Dr. Hugh W. Diamond, 1855, 2016. Courtesy of the artist.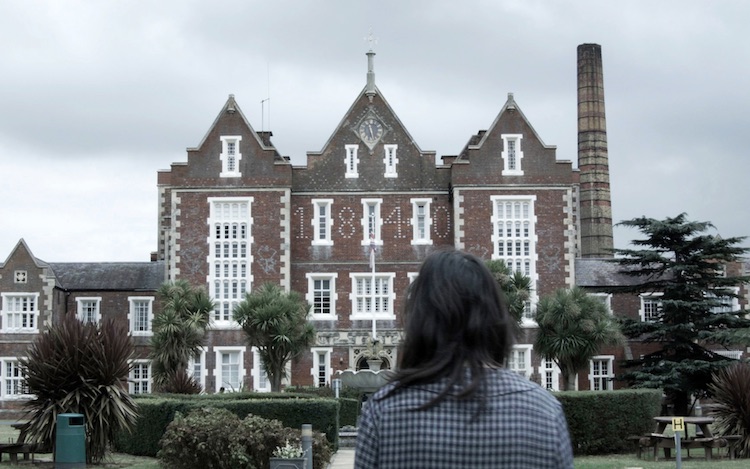 Michal Heiman, Still from Plate 34 Line, London, 2016. Film, 22 min. Courtesy of the artist.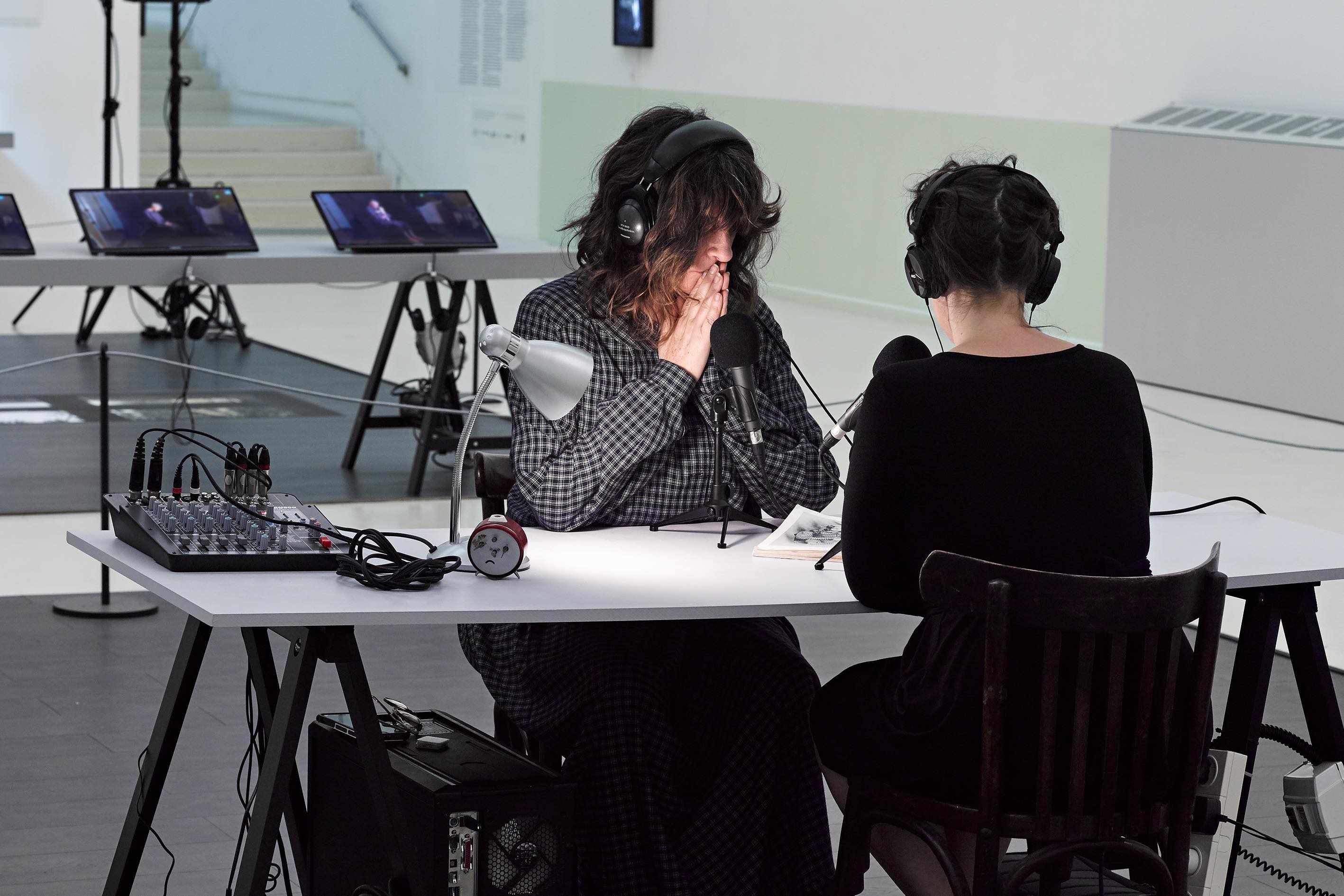 Stills from Can You Help Me?, 2017. Conversations with Michal Heiman at the exhibition Michal Heiman: AP—Artist Proof, Asylum (The Dress, 1855–2017) at the Herzliya Museum of Contemporary Art.
Michal Heiman Gallery Talk
Michal Heiman's installation "Radical Link" took center stage at our Late Fall Members' Preview. Members joined a gallery talk centered on photography inspired by nineteenth-century asylums in England and Italy.
Related Events
Members' Preview
November 8, 5:30-7:30PM
Open to museum members, no RSVP required

Late Fall Opening Reception
November 9, 6-9PM
free and open to all, no RSVP required
Refugees and Asylum Seekers in Israel Conference
November 10 & 11
Hosted by American University's Center for Israel Studies
Radical Link is the latest project by Tel Aviv-based multi-media artist Michal Heiman. Traversing time, space, gender, race, and institutional practices of asylum, Heiman offers a new way to extend solidarity to those who engage in acts of resistance by creating a new community. It includes women who have been subjugated by the Surrey County Asylum in London and the San Servolo Asylum in Venice, asylum seekers, artists, activists, prosecutors, gatekeepers, and those who have suffered under the violence of racism and misogyny. Through the strategies of intervention and the use of archival materials, photographs, films, sound work, and her presence in the gallery, she generates the political, cultural, gendered, and psychic conditions of a potential "radical link."
The exhibition is accompanied by a fully illustrated book, including essays by curator Sarah Gordon; Michal Heiman; Sharon Sliwinski, Professor of Information and Media Studies at the University of Western Ontario; Professor Orna Ben-Naftali, Rector of the College of Management Academic Studies (The Collman), Israel, and the Émile Zola Chair for Human Rights at the Striks School of Law.
about the artist
Born, lives, and works in Tel Aviv. Michal Heiman is an artist, curator, founder of the Photographer Unknown archive (1984), and creator of the Michal Heiman Tests (M.H.Ts) 1–4. Heiman teaches at Bezalel Academy of Arts and Design and is a member of the Tel Aviv Institute for Contemporary Psychoanalysis. For over three decades, Heiman has been developing methodologies that operate between art, therapy, photography, human rights, theory, and practice. She studies neglected histories and their visual aspects, focusing on the history of women, questions of identity, the history of aesthetic production in psychoanalysis, and the role of archives. In 2015, she founded the public-benefit corporation An Academy of Her Own, which advocates gender equality in various academic institutions.
about the Curator
Sarah Gordon is Curator at the Washington, DC, Commission on the Arts and Humanities. She has also curated and coordinated exhibitions at the Art Museum of the Americas and the National Gallery of Art and taught at Smith College, American University, and George Washington University. Gordon is author of Indecent Exposures: Eadweard Muybridge's Animal Locomotion Nudes (Yale, 2015).