Media Inquiries:
AU Communications
aumedia@american.edu
202-885-5950
American University Museum
4400 Massachusetts Ave NW
Washington
,
DC
20016-8031
United States
Good Form, Decorum, and in the Manner Portraits from the Collections of Washington Print Club Members
Curated by Tim Doud
January 25-March 15, 2020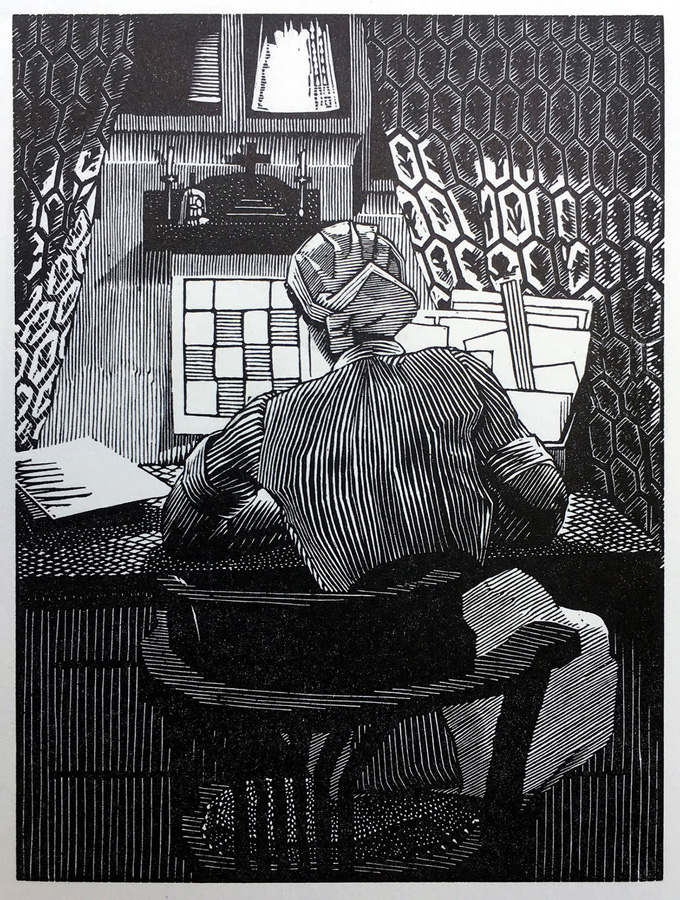 Simon Brett (born 1943), Night Duty, n.d. Wood engraving, 11 x 9 in. Collection of Ellen and Max-Karl Winkler.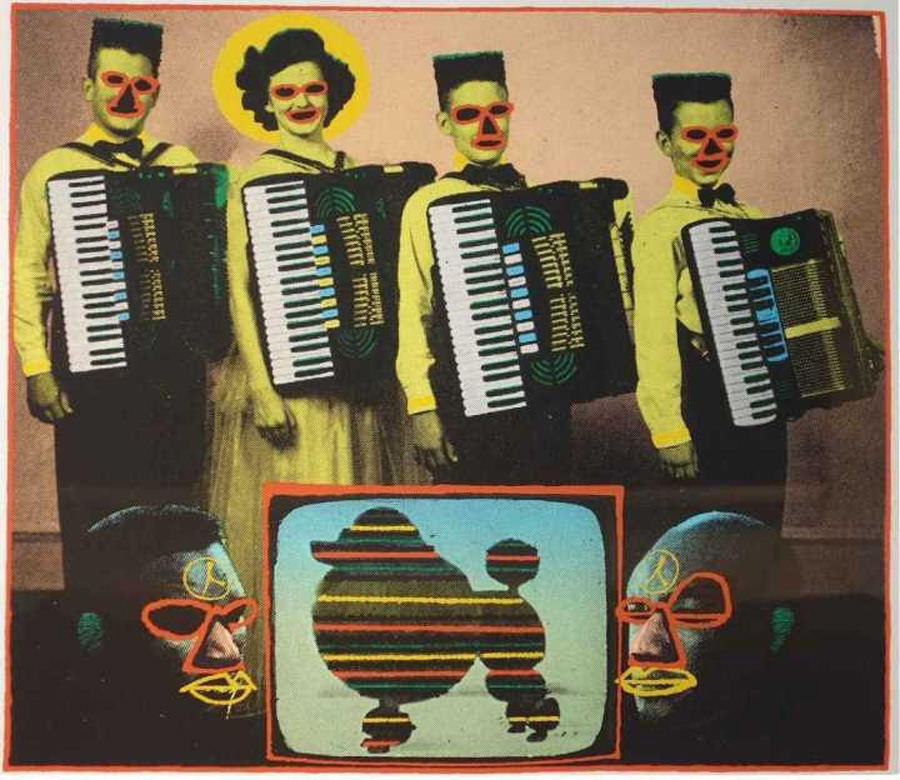 Ed Paschke (1939-2004), Flamenco, 1991. Color silkscreen, 33 x 34 in. Ed. 51/60. Collection of Bob Stana and Tom Judy.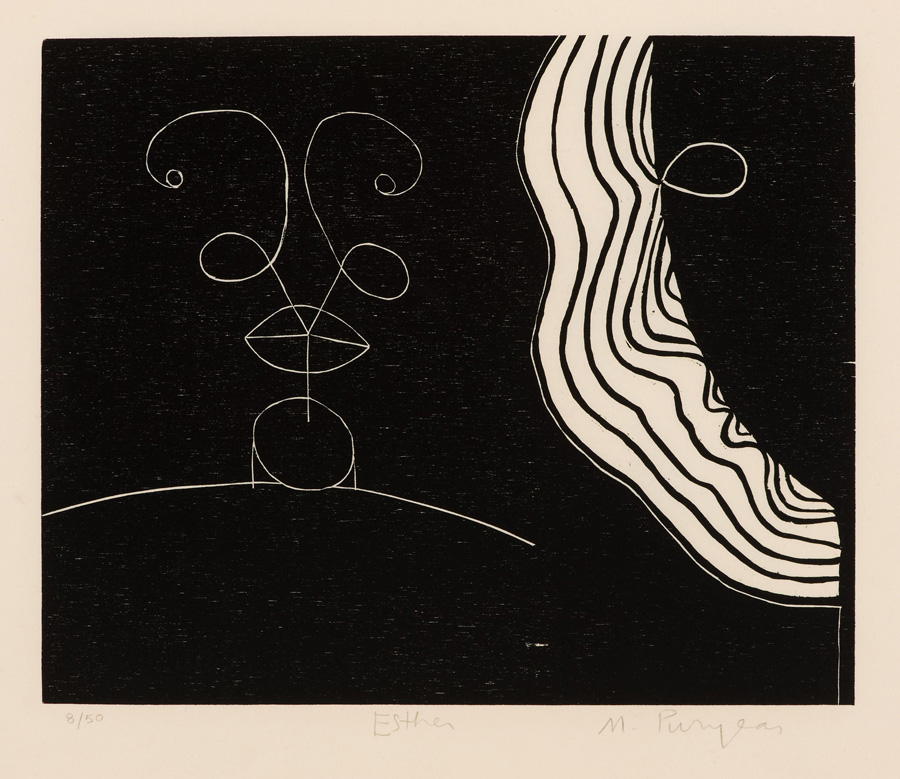 Martin Puryear (born 1941), Cane, 1923. Book with woodcut illustrations, 14 x 11 3/4 x 1 in. unopened. Book by Jean Toomer with 10 illustrations by Puryear, published 2000 by the Arion Press, San Francisco, Ed. 336/400. Collection of Shelly and Gerry Elliott.
Related events
Winter Opening Reception
January 25, 6-9 p.m.
Free and open to all

Gallery Talk: Washington Print Club
February 1, 3-4 p.m.
Free and open to all, no RSVP required
Portraits are usually understood in one of two ways: as the depiction of the face of a person, or a representation of someone's impression of a person. This exhibition comprises many works that could be thought of as conventional portraits of individuals in a wide range of media, including woodblock and wood engravings, intaglio prints, mezzotints, monoprints, photography, collage, and an assemblage made with found objects. The show also pushes the boundaries of portraiture by including works that capture the likenesses of animals, places, memories, and events. 
Good Form, Decorum, and in the Manner can also be considered a snapshot of the Washington Print Club today by celebrating the prized pieces its members have chosen to highlight. My curatorial interest also lies in the resulting overlaps, intersections, gaps, and dialogues between collectors' collections.
Gazi Nafis Ahmed, Jost Amman, Karel Appel, Damon Arhos, Robert Arneson, Eugene Atget, Wolfgang Aurifaber, Milton Avery, Jack Balas, Will Barnet, Leonard Baskin, Wallace Berman, Richard Bosman, Simon Brett, Riley Brewster, Gerald Brockhurst, Jacques Callot, Elizabeth Catlett, Sue Coe, Billy Colbert, Howard Cook, Blake M. Conroy, Lovis Corinth, Miguel Covarrubias, Rosemary Feit Covey, Currier and Ives, John Steuart Curry, Richard Diebenkorn, Anju Dodiya, Claude Drevet, Werner Drewes, Albrecht Dürer, Anthony van Dyck, James Ensor, Nicole Fall, Conrad Felixmüller, Antonio Frasconi, Lucien Freud, Mélanie Geray, Saul Glass, Walter Gramatte, Red Grooms, Keiko Hara, Wes Hempel, George Hermes, David Hockney, Beth van Hoesen, Josh Holland, Henry Inman, Marcos Irizarry, Lin Shi Khan, Jacob Kainen, Yousuf Karsh, Rockwell Kent, Bhupen Khakhar, C.H. Kiffer, Max Klinger, Käthe Kollwitz, Kalman Kubinyi, Yasuo Kuniyoshi, Constance Stuart Larrabee, Willhelm Leibl, Thomas de Leu, Martin Lewis, D. Dominick Lombardi, Marissa Long, Mike Lyon, Reginald Marsh, Percy Martin, Master of the Grüninger Workshop, James McArdell, Scarlett McCalman, Ed McCluney, Jack Meagher Jr., Claude Mellan, Mary Frances Merrill, Jean Morin, Barry Moser, Catherine Murphy, Robert Nanteuil, Lee Newman, Gladys Nilsson, Martha Olson, Osmeivy Ortega, Elizabeth Osbourne, Luiz Gonzalez Palma, Ed Paschke, Sudhir Patwardhan, George A. Peterson, Michael B. Platt, Liliana Porter, Martin Puryear, Man Ray, Krishna Reddy, Rembrandt van Rijn, Sue Ellen Rocca, Meredith Rode, Joan Root, Susan Rose, G.H. Rothe, Theodore Roussel, Kiyoshi Saito, Joyce L. Scott, John M. Sokol, Kathleen M. Spagnolo, Napoleon Sarony, Edward Savage, Carl von Schutz, Sue Scullard, Stan Shellabarger, Edward Sorel, James Steele, Renée Stout, Jonas Suyderhoef, Unidentified artists, Julio Viera, Jacques Villon, Lucas Vorsterman, John Walker, Andy Warhol, Stewart Watson, William Wegman, Tom Wesselmann, John Woodrow Wilson, Grant Wood, and Maria Eugenia Zavattieri.
Gallery Talk: Washington Print Club
Washington Print Club President Chris With spoke with exhibition curator Tim Doud about the prints on view in "Good Form, Decorum, and in the Manner."