Reveal: The Art of Reimagining Scientific Discovery Rebecca Kamen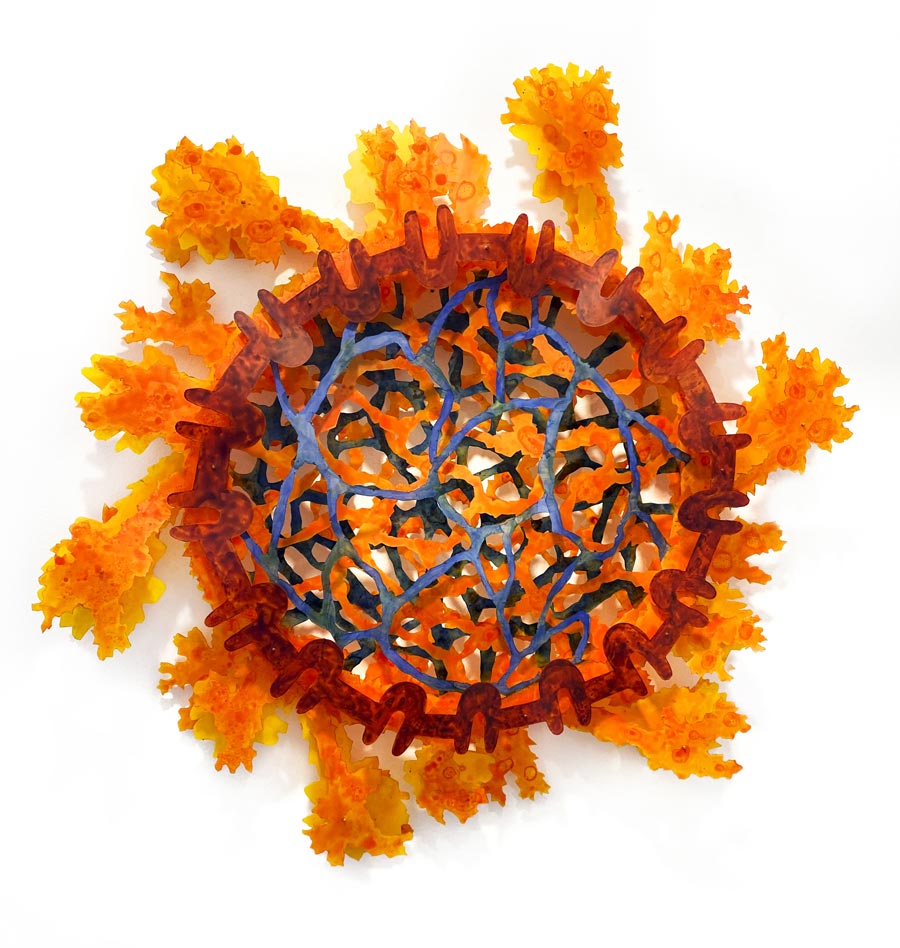 Presented by the Alper Initiative for Washington Art
August 28–December 12, 2021
Curated by Sarah Tanguy

Featuring Virion Breaths, a breath art piece by Dominic "Shodekeh" Talifero.

View our hours of operation and review our health and safety terms before your visit.


Read the exhibition catalog online, featuring essays by Sarah Tanguy, Perry Zurn (Assistant Professor of Philosophy, American University) and Danielle Bassett (Department of Bioengineering at the University of Pennsylvania), and a foreword by Sara Nieves-Grafals (retired clinical psychologist and member, AU College of Arts and Sciences Advisory Council). Available for by emailing museum@american.edu. $15 each plus taxes and shipping, if applicable.

In Reveal, Rebecca Kamen unlocks curiosity as a creative link between the arts, humanities, and sciences, exploring the symbiotic relationship behind scientific research and artwork's development. From her extensive collaborations with scientists and philosophers at American University and beyond to her own life experience, the selection of painting, sculpture, and installation harnesses the emotive power of abstraction to humanize scientific breakthroughs in novel and unexpected directions. In the process, the exhibition becomes a laboratory of possibilities, shedding light on the many and disparate connective threads of her own artistic progress in the last two years.
A sequence of interrelated, thematic sections chronicle Kamen's journey from a general interest in the human brain through her diagnosis of a brain tumor and its aftermath to the advent of the novel coronavirus and the remarkable opportunities the pandemic has provided her for further artistic investigation. The exhibition begins with a personal cabinet of curiosities—an amalgam of natural and manmade objects—that act as a portal to the artist's encyclopedic practice. Kamen introduces a series of diaristic paintings titled Reverie, where brightly hued, globular and swirling nodes capture the dizzying effects of the double vision she experienced after brain surgery in 2019. Then, a Semantic Network Data Visualization, the result of a partnership with scientists at the University of Pennsylvania, maps the conceptual evolution of artwork in the exhibition, and like the flattened, hand-painted renditions of early world maps, the computer-generated diagram weaves a dynamic interplay of word and image.
Kamen's next experiment involves grouping a selection of Reverie paintings with earlier sculptures based on her seminal research of complex systems of the human brain. In these, the atmospheric openness of the paintings contrast with the restraining armature of the sculptures even as compositional parallels emerge between their shape-shifting energy. The impact of the pandemic pulses through recent paintings and sculptures that compare solar corona flares and the coronavirus, the fiery chromatic explosions in one counterpointing the contained, budlike clusters in the other. In a companion body of new sculptures, titled Illuminations, she probes the Euclidian geometry underlying these macro and micro phenomena by juxtaposing the angular shape of icosahedrons with the tumultuous landscapes on their painted surfaces. The exhibition culminates in the meditative Silent Spread, a graphite on mylar, wall-mounted installation where 28 diaphanous sculptures of the coronavirus, rendered in gray monochrome and in varying size, reflect and trace the migratory pattern of COVID-19.
Guided by the associative language of visual poetry, the works in Reveal become catalysts, making scientific discovery manifest in new ways. Kamen's passion and enthusiasm course throughout, as does her abiding interest in the intersections of art and science. As she continues to seek a positive outcome from difficult circumstance, she coaxes works into being that inspire a fresh perspective while forging a dynamic model for both individual and societal inquiry and growth. 
Introducing Rebecca Kamen's "Reveal." Featuring breath art by Dominic "Shodekeh" Talifero, and an original poem by SJ Fowler, composed for the exhibition. Videographer: Gregory R. Staley.
Gallery Talk: Rebecca Kamen's "Reveal" - October 14, 2021
Artist Rebecca Kamen and curator Sarah Tanguy discussed the exhibition during a virtual gallery talk on October 14, 2021.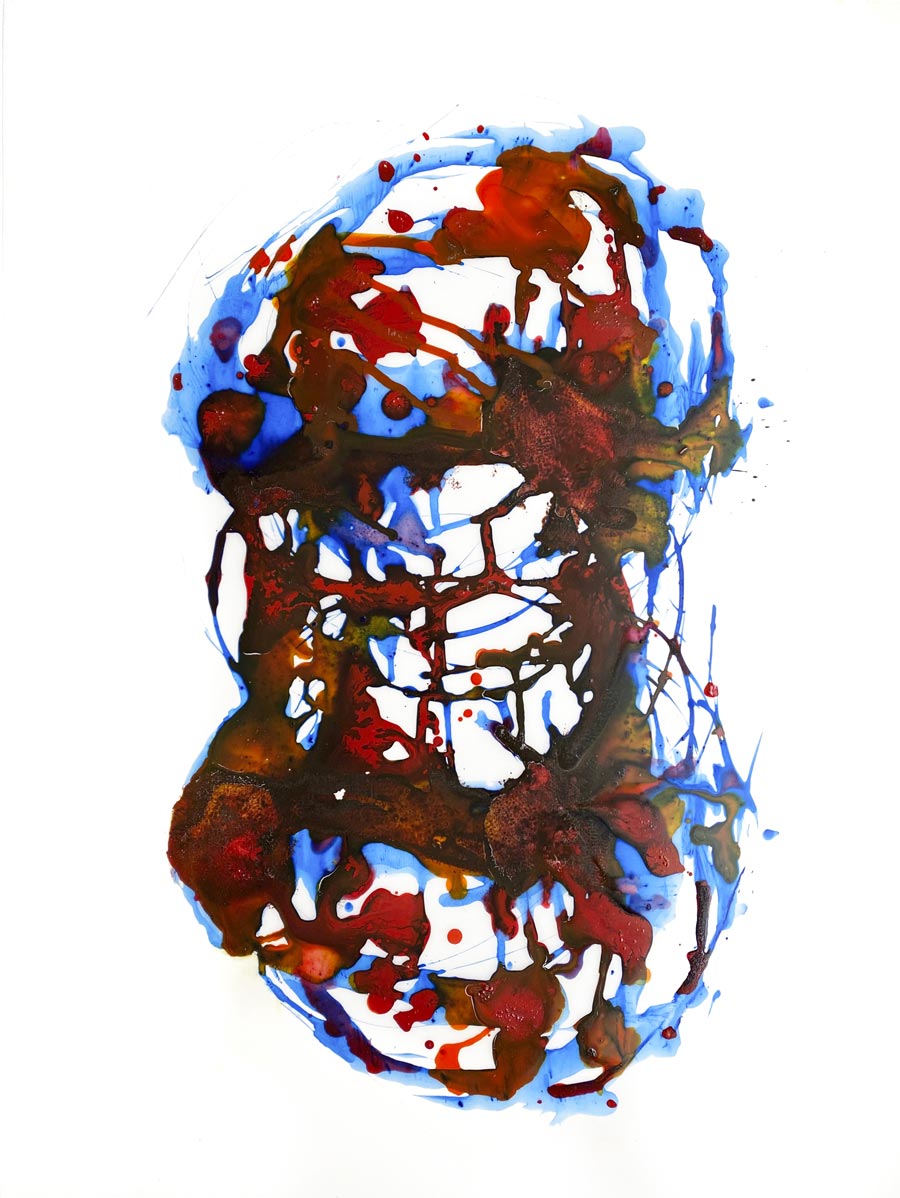 Warming 4, 2019. Acrylic on mylar, 24 x 18 in. Courtesy of the artist.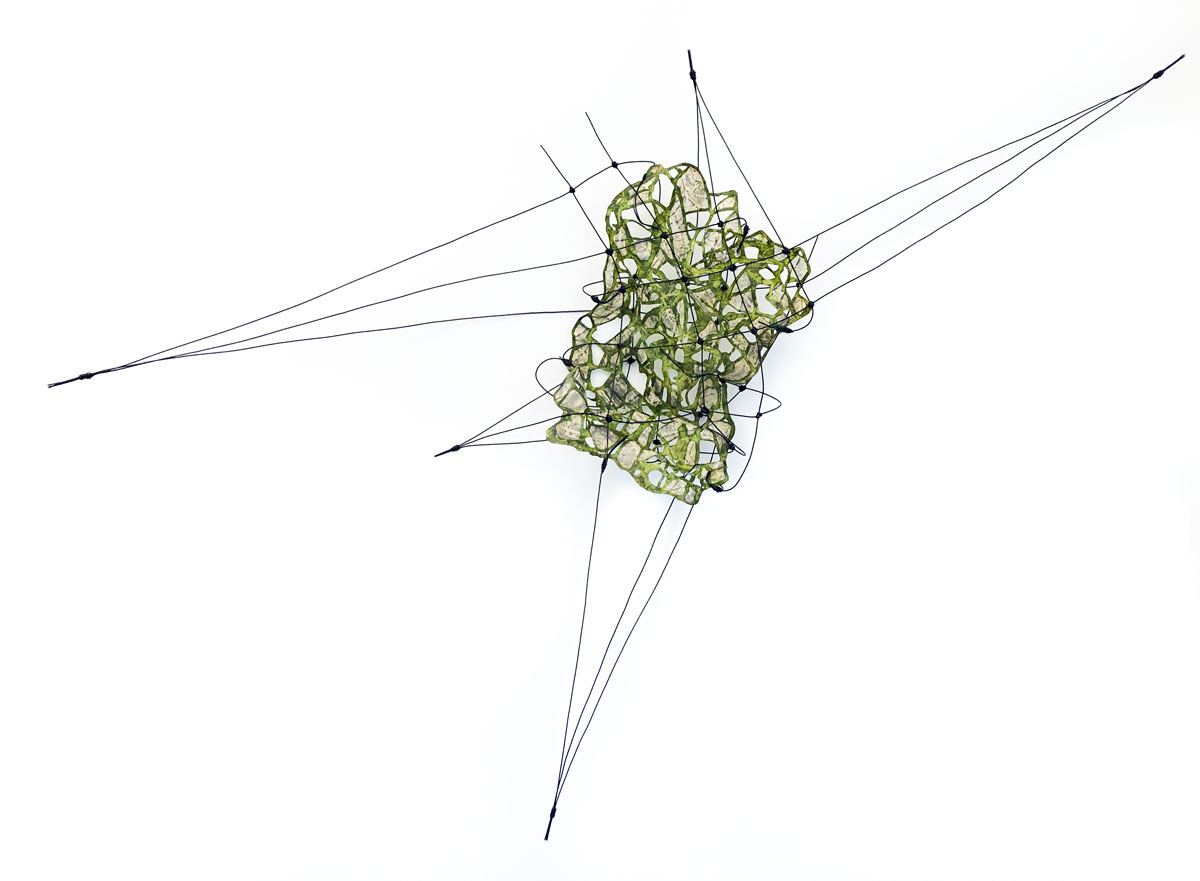 External Wind, 2019. Acrylic on mylar, wire, 49 x 59 x 9 in. Courtesy of the artist
Illumination 1, 2020. Acrylic on mylar, 9 x 9 x 6 in. Courtesy of the artist.
Curiosity as Art and Science: Rebecca Kamen and David Lydon-
Annenberg School for Communication reports on the exhibition, featuring Rebecca Kamen and Annenberg Professor David Lydon-Staley, whose research helped to inspire the exhibition.