Tues - Sun 11 a.m - 4 p.m.
Closed Monday
Free admission
Alper Initiative
4400 Massachusetts Avenue NW
Washington
,
DC
20016-8031
United States
Remembering Carolyn Small Alper (1927-2020)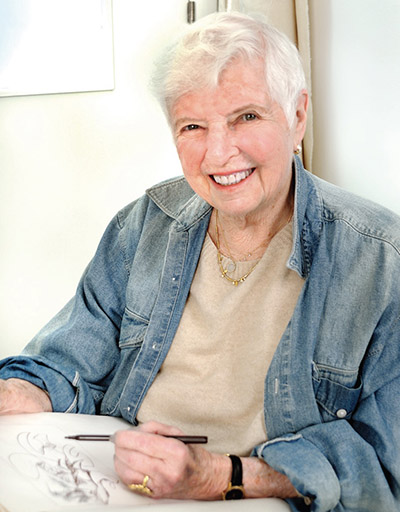 It is with great sadness that I write to tell you of the passing of Carolyn Small Alper, benefactor of the Alper Initiative for Washington Art, on Saturday evening. 
Carolyn was an irreplaceable part of the Washington Art World. She graduated from American University with a BA in Art History in 1968, and went on to study at the Corcoran under two of our most important artists, Morris Louis and Gene Davis. She became an accomplished painter and an extraordinary art collector. 
In 1971, she co-founded the Foundry Gallery, then helped the Washington Women's Arts Center gain traction. Her philanthropy supported many other arts venues from the Washington Project for the Arts to The Phillips Collection, the Corcoran Gallery of Art, the Renwick Gallery, and the National Gallery of Art, to name just a few. 
Carolyn came to me in 2014 with her vision for a space in the city where students, scholars, and neighbors could immerse themselves in DC art history, engage with local artists, and exchange ideas. Thanks to her philanthropic leadership, the Alper Initiative for Washington Art opened its doors at the American University Museum in 2016. It is now the recognized center of DC's creative scene. Since she opened its doors, we have presented 23 exhibitions by Washington artists with catalogs, and the Alper salon-style discussions we host for every show that are always exciting and well-attended, presided over by a smiling and engaged Carolyn Small Alper.
Carolyn was so much more than the sum of her many accomplishments. Loving daughter, mother, grandmother, she was all about her family, and all about her community. We are honored to have always been in her heart, and we will continue to honor and support her thoughtful gift to Washington. We will carry on for Carolyn!

Jack Rasmussen
Director & Curator
American University Museum
We have gathered reflections from several of those closest to the Alper Initiative for Washington Art. They represent a few of the multitude of artists and students whose experiences have been so profoundly shaped by Carolyn's generosity. To share your own memories of Carolyn, sign Carolyn's online guest book.
"It has been an honor to have been an Alper Fellow during my time at American University. I thank Ms. Alper for providing me with this wonderful opportunity. This fellowship has given me more than I could have ever asked for, from helping with amazing exhibitions to meeting people that have become my closest friends. I am proud to say that I was a part of Carolyn Alper's legacy and will always keep my time as a fellow close to my heart. My deepest condolences to her family and friends."
Michael Quituisaca, Alper Fellowship Recipient, MA '20
"My exhibition, one of the most important of my career, was made possible by the museum's vision and Carolyn Alper's largesse in sponsoring and underwriting the exhibition space, a large malleable gallery that I consider one of the best rooms in DC for exhibiting artworks. With Ms. Alper's passing, the Washington arts community has lost an active advocate and a generous soul"
Joe Cameron, Exhibiting Artist, 2017
"Carolyn Alper was a jewel in the Washington, DC crown. As a benefactor she not only supported DC artists by collecting their art, but saw to it that there was a space where the work of Washingtonians could be celebrated and recognized as part of the city's cultural legacy. I was educated in Washington, DC and spent my entire youth calling it my playground. My art career has taken me to many parts of the world but it wasn't until I had an exhibition at The Alper Initiative for Washington Art that I really felt like I'd come home. As a person Carolyn was kind and engaging and during the run of my exhibition at AU Museum she was always generous with thoughtful words of interest and support. Carolyn was a vibrant force in the arts community. She will be deeply missed by those who had the pleasure of knowing her and by all who have been, and will be, enhanced by her visionary efforts."
Melissa Ichiuji, Exhibiting Artist, 2016
"Few people made the lasting impact on the Washington arts community that Carolyn did. She wove together the essential components of our community: artists, galleries, schools and universities, museums, donors, and non-profits that promote art—effortlessly. The James Renwick Alliance was fortunate to have her serve on our board, and we were beyond thrilled when the Alper Initiative for Washington Art was announced and launched at the AU Museum. The JRA benefits from her generosity to the AU Museum every time we host a Distinguished Artist Series lecture in the Alper Initiative gallery. When we gather there again, we will think of Carolyn, feel the warmth of her smile, and continue the quality programming and dialogue that her life modeled for so many. I offer my deepest sympathies to her family and all those she worked with at American University."
Michele A. Manatt, President, James Renwick Alliance