Arts
Influential Mexican, Irish Artists at the AU Museum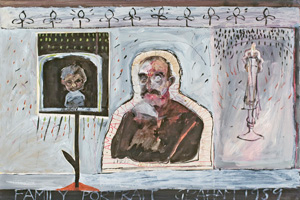 When you think of Mexico, what images pop up in your mind's eye? You may think of stereotypical icons such as the Mexican flag or a sombrero, or news stories about Mexico such as those focused on tourism, immigration policy, poverty, or violent drug cartel crime. The stereotypes may also inform your thoughts about Mexican art: you may have prescribed ideas of what Mexican art would or would not look like.
MEXICO: EXPECTED/UNEXPECTED —an exhibition that will make its East Coast debut at the American University Museum at the Katzen Arts Center on Saturday, June 9— defies commonly held stereotypes about Mexico and its art, exposing unexpected images and perspectives created and communicated by some of Mexico's most influential contemporary artists. The goal? To encourage new thoughts about Mexico and its place in the international, contemporary art scene.
The exhibition, the largest one of contemporary Mexican art to show in Washington, D.C., comprises works selected from the Isabel and Agustín Coppel Collection, one of Mexico's most comprehensive contemporary art collections.
Works by leading contemporary Mexican artists such as Francis Alÿs, Jorge Méndez Blake, Gabriel Orozco, and Pedro Reyes, are presented beside works by artists from other Latin American countries, Europe, and the United States, including Gordon Matta-Clark, Ana Mendieta, Ed Ruscha, and John Baldessari.
MEXICO: EXPECTED/UNEXPECTED at the American University Museum is sponsored by the Mexican Embassy and the Mexican Cultural Institute. As part of the collaboration with the Mexican Cultural Institute, Mexican artists Ricardo Rendón and Marco Rountree will be in attendance while creating site specific works for the exhibition. At 5 p.m. on Saturday, June 9, the museum will host a gallery talk by Carlos Basualdo and Mónica Amor, curators of the original MEXICO EXPECTED/UNEXPECTED exhibit.
In addition to MEXICO: EXPECTED/UNEXPECTED , two other exhibitions will be on view during the American University Museum's summer season—PATRICK GRAHAM: THIRTY YEARS—THE SILENCE BECOMES THE PAINTING, and THE CONSTANT ARTIST . All three exhibitions open Saturday, June 9, and close Sunday, August 12.
PATRICK GRAHAM: THIRTY YEARS—THE SILENCE BECOMES THE PAINTING is a rare opportunity to view the works of Ireland's most influential contemporary artist, Patrick Graham. In his paintings and drawings, Graham creates meditations in the form of landscapes and iconic imagery that touch upon questions pertaining to reality, the meaning of life, and the search for faith in a world of diminishing absolutes. The artist describes his work as "A looking-in, rather than a lived experience. That 'looking-in on things' has stayed with me: a self contained art."
The American University Museum showing, curated by legendary art historian and curator Peter Selz, is the artist's first East Coast solo exhibition. This exhibition follows its critically acclaimed and record-breaking run in San Francisco at the Meridian Gallery and the Society for Art Publications of the Americas.
PATRICK GRAHAM: THIRTY YEARS—THE SILENCE BECOMES THE PAINTING was organized with the support of Jack Rutberg Fine Arts, Los Angeles, international agent for Patrick Graham. According to a February 15, 2012, San Francisco Examiner article, "Rutberg first learned of Graham through the late actor Vincent Price, who was a passionate art collector." Following Price's discovery of Graham's work in London, Rutberg told the Examiner that Price, who was on a cruise to Dublin, sought out the artist's work. "He was so moved by the artist, he waited outside a gallery for four hours until it opened."
Selz, San Francisco Chronicle chief art critic Kenneth Baker, and Jack Rutberg, owner and director of Jack Rutberg Fine Arts, will discuss Graham's works at the American University Museum from 4 to 5 p.m. on Saturday, June 23. The event is free and open to the public.
PATRICK GRAHAM: THIRTY YEARS—THE SILENCE BECOMES THE PAINTING is supported by the Embassy of Ireland and Culture Ireland, the national body for the promotion of Irish arts worldwide. A fully illustrated catalogue with essays accompanies the exhibition. The exhibition will next travel to and open on September 23 at the Museum of Contemporary Religious Art at Saint Louis University.
THE CONSTANT ARTIST, an exhibition by Washington, D.C., photographer Paul Feinberg, features early and late works of art by nine D.C.-area artists together with Feinberg's photos of the artists at the early and late stages of their careers. Feinberg's photographs and interviews, or "word portraits," have enlivened magazine articles, books, and exhibitions both locally and nationally for decades. Feinberg has been particularly obsessed with interviewing and photographing artists in the Washington, D.C., area. Artists profiled in THE CONSTANT ARTIST are Lisa Montag Brotman, Manon Cleary, Rebecca Davenport, Fred Folsom, Clark V. Fox, Sam Gilliam, Tom Green, Margarida Kendall Hull, and Joseph White.