Television & Film
AU Student Filmmaker Scholars Program Receives $10,000 Grant from the Academy of Motion Picture Arts and Sciences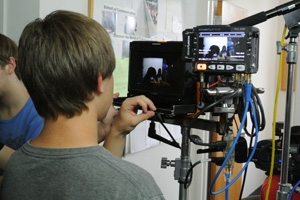 The Academy of Motion Picture Arts and Sciences will provide seven Washington D.C.-area high school students with scholarships to attend a three-week hands-on workshop that includes all aspects of filmmaking from script to screen through a $10,000 grant supporting the Student Filmmaker Scholars Program.

The program is offered by Discover the World of Communication, an American University School of Communication initiative, which offers high school students an extraordinary summer opportunity to explore the field of communication in a dynamic university setting. The priority of the Student Filmmaker Scholars Program is to identify minority and female budding filmmakers.

DWC Director Sarah Menke-Fish is thrilled that the Academy of Motion Picture Arts and Sciences has chosen to support the program. "This funding will allow us to reach students who have not traditionally been able to participate in DWC. " She says that the Scholars will reap a range of benefits from the program. "It's not only an outlet for their creative passion, but also professional development. Students make a real product for a real audience. It can and frequently does serve as a portfolio piece for the student's college application."
 
Menke-Fish, a professor of Film and Media Arts, created and launched DWC, which has turned out over 3,000 alumni over the past 18 years. She also directs AU's University College, a premier living, learning and laboratory experience for first-year college students and serves as associate director for the Center for Environmental Filmmaking.

In the Scholars Program, which is taught by working professionals Steven Holloway and Shannon Schenck with visits by Oscar- and Emmy-winning guest lecturers, participants begin by developing story ideas into scripts, covering topics such as basics of story craft, creating characters, and formatting a screenplay.
Next, the students transition to film production, learning the basic principles of 16mm production, lighting concepts, dual system sound recording, and pre-production planning. They rotate through different roles on set to get the most hands-on experience. This includes director, assistant director, cinematographer, script supervisor, grip, sound mixer, and more.
Finally, post-production topics including editing on Final Cut Pro, sound design and film marketing and promotion are covered. Students present their final projects at a screening attended by peers, instructors, and community members.

During class and after hours, students explore Washington, D.C. and the communication field from a variety of angles. Students view live television and radio broadcasts at local studios such as NBC 4, WTTG Fox 5, NPR and ESPN Radio, cover a Nationals baseball game or WNBA game from a press seat, and tour local attractions including the National Zoo, Newseum, National Cathedral, Georgetown and the Smithsonian museums.