Alumni
AU Alumnae Cross Paths in Rabbinic Studies West Coast alumnae connect through American University experiences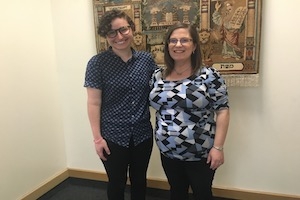 American University's College of Arts and Sciences alumni can be found across the country and around the world. Here, Libby Parker (BA public relations '18) interviewed two AU alumnae who unexpectedly crossed paths in Los Angeles and realized that they shared similar AU undergrad experiences and parallel values and career goals.
After earning a degree at American University, you never know where the world will take you, or who you might meet. For Hillary Chorny (BA Jewish studies '08) and her student and fellow AU alum, Jenna Shaw (BA economics and Jewish studies '17), they found connection and mentorship rooted in shared experiences at AU.
Shaw is currently taking a seminar class taught by Chorny at the Ziegler School of Rabbinic Studies in Los Angeles. The course is focused on supporting first-year rabbinic students as they navigate leadership and spiritualty at the beginning of their graduate education.
"At the beginning, we were a group of strangers, who were nervous to form a community," Shaw says. "Rabbi Chorny has helped us become a cohort. She is the type of rabbi I aspire to be."
Chorny's work outside the classroom has also left an impression on Shaw. "I am inspired by how Rabbi Chorny balances being involved in a large congregation, while also engaging in outreach. She is a rabbi and a cantor, but she is also an ally to other communities in the area."
Chorny described the similarities in how she and Shaw have fostered their personal approaches to the rabbinic world. "Jenna and I are both part of the changing face of what it means to be a rabbi. As AU alums, we share a background in being aware and globally focused."
DISCOVERING JEWISH STUDIES AT AU
When she began at AU, Chorny did not expect to pursue Jewish studies. During her sophomore year, she took a modern Jewish history class, taught by Professor of History Pamela Nadell. "I got a B- in the course and I thought to myself 'I am not a B- Jew. There must be more that I owe myself to learn.' " This marked the beginning of Chorny's journey to becoming a cantor and rabbi.
"AU provided the academic and community leadership I needed to bridge onto graduate study," said Chorny. Following graduation, she went on to complete a master's degree in sacred music at the Jewish Theological Seminary in New York, where she also completed her rabbinical ordination.
Similarly, Shaw came to AU with little intention to pursue Jewish education. During her sophomore year, she took a Jewish literature class with Department of History's Scholar in Residence Lauren Strauss, where she discovered that she could tackle feminism and social justice through her faith. "I wanted to be someone that could bring Judaism to where people were, and to help enact real change," she said.
Today both Chorny and Shaw are pursuing Judaism in a way that is politically active and community focused. Despite graduating AU almost a decade apart from each other, they are able to connect over the unique foundation they found in their undergraduate experiences. "It's a really beautiful thing that we share that part of our stories of having been through the AU program in preparation for rabbinic studies," said Chorny.