Professional News
A Graduate Economics Degree: Five Things You Need to Know High demand across industries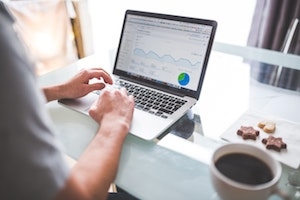 "The field of economics rewards creative and curious thinkers." – The Princeton Review
It's never been a more exciting time to become an economist. A degree in economics opens doors to careers in business, policy, law, technology, and a myriad of other fields. Economists analyze data, make projections, and propose solutions to some of the most significant issues facing the world today.
Here are five things you should know about the field and how American University's graduate economics program can help you get there.
1) AU PREPARES YOU FOR AN EXCITING CAREER
From international economics to development and gender analysis, AU graduate students can tailor their economic degrees by choosing from five distinct tracks. Our program will prepare you for a successful career in the public or private sector — working locally, nationally, or abroad. The DC area employs the largest number of economists in the country, making it ideal for networking, internships, and jobs. Sixty-one percent of our students complete an internship, leading to careers at some of the world's most important institutions, including the Bureau of Labor Statistics, Deloitte, the Federal Deposit Insurance Corporation, the Inter-American Development Bank, the International Monetary Fund, J.P. Morgan, and the Overseas Private Investment Corporation.
2) ECON DEGREES OPEN MANY DOORS
You can use an economics degree across many fields, including business, finance, policy, law, technology, government, and academia. To prepare you for the career you want, in the field that interests you most, AU offers five tracks: international economics, applied economics, gender analysis in economics, and financial economics. We also offer our applied economics degree online. Our graduates work in government institutions, such as the Department of Labor and the IMF — as well as private organizations including Fannie Mae and Visa — at at consulting firms like Booz Allen Hamilton.
2) ECONOMISTS ARE WORKING IN HOT NEW FIELDS
Economic analysis is becoming increasingly data driven, and economists need experience working with data analysis and econometrics. All students in the AU economics program complete a two-course sequence in econometrics, and become proficient at using state-of-the-art statistical software. Students then apply these skills in their field course work and capstone courses, giving them experience in rigorously analyzing the critical issues impacting various fields.
4) ECONOMISTS MAKE AN IMPACT AND DRIVE CHANGE
Economists make important contributions to a wide range of public policy areas, including taxation, labor, healthcare, and the environment. The research done by AU graduates helps policymakers understand the factors leading to a variety of issues, such as income inequality, unemployment, and economic recession. Our grads help inform decision-makers and society overall so that optimal outcomes can be reached.
5) ECONOMISTS ARE STRONG COMMUNICATORS
Economists need to use theoretical and mathematical models to determine causality and predict outcomes. They also need to be able to communicate their findings to a variety of audiences. American University offers courses like Communicating Economics that prepare our graduates to communicate complicated theories clearly, both verbally and in writing, so that their findings will make a real impact.