A New World of Learning this Fall AU moves online, offering innovative ways of teaching and research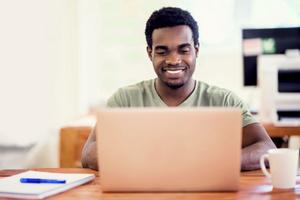 We are living in unprecedented times, and as a result, American University's fall semester will look very different from the past. Several weeks ago, the university made the difficult but necessary decision to move nearly all classes online for fall.
AU faculty learned a lot from the abrupt switch to virtual education last spring and have been preparing for the fall ever since, reimagining the design and delivery of high-quality online education. Now they are rising to the occasion to offer students an exceptionally innovative virtual learning experience.
They will be utilizing cutting-edge technology, inviting notable speakers to class, designing lab experiments that can be conducted from home, creating breakout rooms and small discussion groups, and planning virtual events ranging from theater performances to art exhibitions. Faculty are also taking a close look at how to teach students about the historical events occurring during these times — the COVID-19 pandemic and Black Lives Movement in particular — through the lenses of their various disciplines.
As a result, American University students will have opportunities to perform online, become part of history by immersing themselves in current events, conduct research and experiments from home, build their digital and technology skills for the future, and much more.
"We all wish it were safe enough for everyone to meet in a classroom," says Max Paul Friedman, interim dean of the College of Arts and Sciences. "But we can turn this crisis into an opportunity, because when it comes to collaborative work, drawing on images and texts, inviting guest speakers, and so many other things, the world is now our oyster! We can connect to people and places and resources almost without limits, and our faculty have leveraged the miracle of networked technology to turn their creative teaching practice into exciting new opportunities for learning together."
Read on for examples of some of the innovative ways College of Arts and Sciences students will be learning this fall! All classes can be found in the AU Course Catalog.
Learn Chemistry in Your Kitchen
In Associate Professor of Chemistry Matt Hartings' ever-popular Chemistry of Cooking class, students are transformed into chemists in their home kitchens. They will conduct two projects over the course of the semester to understand intricate chemical transformations: they will "change" a recipe and complete a full chemical analysis of a meal.
Run a Lab from Home
Students who want a real chemistry lab experience to put on their resumes can take part in a community project in CHEM 196 Community Science, where they track physiological and biochemical changes to plants and trees. Students will gain valuable laboratory experience (measurement consistency, programming for data analysis, and literature evaluation), and they can do it all outdoors and in their homes.
Learn How Forensics Work
In CHEM 251 Criminalistics, Crime and Society, also known as "forensic chemistry," Senior Professorial Lecturer Michele Lansigan will guide students through a series of home experiments, including learn how to lift fingerprints from a glass surface.
Perform, Create, and Build a Portfolio
From studio art, to dance, to music, to theatre, arts students will have the opportunity to practice, create, and perform in online asynchronous and synchronous ways, building their portfolios and developing a strong understanding of new technology. Miss You Like Hell will be recorded and streamed online. The Women will be performed on live Zoom with a cast of students from around the world. Faculty are working to incorporate elements of technology, film, self-taping, and multimedia into every class.
Dance for Camera
Students will receive help with setting up their home dance studios, watch demos, and even audition online for the CHOREOLAB fall performance. Students can also register for a course that's perfectly suited to this moment: DNCE 460 Advanced Topics in Creative Practice: Dance for Camera, which will be taught virtually by the well-known Robert Woofter, dance film artist and Mother of Haus of Bambi.
Immerse Yourself in World-Changing Current Events
Public Health students can take classes that cover the latest pandemic developments — in real time — so that they are prepared to hit the ground running after graduation. This fall, Public Health Scholars Program Director Melissa Hawkins will teach Public Health Scholars Lab: Role of Contact Tracing, and in the spring she will teach Complex Problems: Inside the Outbreak.
Study the Historical Context of Current Events
Students will have the opportunity to study the historical context of the pandemic. In Plagues, Plots, and People, a Department of Critical Race, Gender, and Culture Studies Complex Problems seminar taught by Senior Professorial Lecturer Sarah Marsh, students will situate COVID-19 in the history of pandemic outbreak narratives.
Discover Classic, Contemporary, and Artist Activists
Sybil Roberts, director of African American & African Diaspora Studies — and performing arts professor — will teach AFAM 200 African Americans in the Diaspora, covering the history of African American resistance through classic social-political essays by major African American thinkers. In response to the Movement for Black Lives, she will introduce students to contemporary activists, too, including Charlene Carruthers, Adrienne Marie Brown, and Alexis Pauline Grumbs.
In PERF 225 The African American Experience in the Performing Arts, Roberts will cover African American resistance in the arts from circa 1830 to the present. Students will examine how contemporary theatre artists have responded to the Movement for Black Lives.
Dive into Civil Rights and the Movement for Black Lives
In AMST 240 Poverty and Culture, Professorial Lecturer Tanja Aho will guide students through the Civil Rights Movement and the Movement for Black Lives. In her AMST 200 American Dreams, American Lives class, students will examine the Movement for Black Lives through documentaries such as Stay Woke: The Black Lives Matter Movement and Ferguson: A Report from Occupied Territory.
Meet Famous Scholars as You Study Their Work
Thanks to the wonders of videoconferencing, students can meet internationally known scholars and writers as they study their work. Across the College, faculty are inviting prominent speakers to "drop into class." One upcoming webinar series, Antisemitism Since the Holocaust, hosted by AU's Center for Israel Studies and the Jewish Studies Program, will bring together distinguished scholars of Israeli, American, and European history for discussions with students.
Experience Important Art
The AU Museum is featuring important and relevant online exhibitions, including Art and Authenticity in the Age of Fake News and Contested Space, which examine issues surrounding this fall's presidential election, and Border Wall, a series of large-scale photographic works by Allan Gerson (1945-2019) documenting post-graffiti street art from the Mexican side of the US-Mexico border wall.
The AU Museum's website will feature a revolving series of highlights from the permanent collection, online events featuring artists and student curators, online gallery talks, exhibition catalogs, artist studio visits, and more.
Measure Biodiversity in Your Neighborhood
In ENVS 150, students will calculate the biodiversity indices in their backyard or in parks around where they live and collect data on how to assign values to the environment, such as the worth of different types of trees in different places.
Learn Cutting-Edge Technology
Working with the Department of Performing Arts, our audio-tech students will master the latest equipment and technology to bring performances together virtually.
"Meet" Famous Writers
The Department of Literature will host a virtual Visiting Writers Series including poet Monica Sok, and poet and cultural critic Hanif Abdurrraqib. It's also hosting the 40th Anniversary of the PEN Faulkner Foundation's PEN Malamud Award for Excellence in the Short Story. This year's winner is Lydia Davis, a MacArthur Genius Award Winner.  
Examine Why Health Disparities Exist
In HLTH 245 Multicultural Health, students will examine the cultural, social, and psychological determinants of health status, behaviors, and disparities in our nation. The class will learn the effects of race, religion, social class, diet and lifestyle, gender roles, sexual orientation, acculturation, and migration on health.
Work in the Community — Virtually
Public Health Capstone students will be working on virtual projects for DC community partner organizations, ranging from social marketing plans for Capital Clubhouse, which supports adults with mental health challenges, to creating community resource guides for the Family Lifestyle Intervention Program, a collaboration of Children's National Medical Center, the American Heart Association, and the YMCA.
Learn Straight from the Experts
In American Studies, students will learn about Immigration Law and Legacies from Ana Sol Gutierrez, the first Latina elected to the Maryland state legislature.
Learn from the Great American Musical
The Department of Critical Race, Gender, and Culture Studies offers an upper-level online seminar that examines the acclaimed musical Hamilton — and all the issues that it raises about race, gender, class, and citizenship.  
Design a Sustainable City with your Peers
Students in ENVS 260 Introduction to Enviro Science II: Energy & Pollution will work collaboratively to design a virtual sustainable city using concepts they learn throughout the semester in the lecture portion of the class taught by Hurst Senior Professorial Lecturer Jesse Meiller. In the laboratory portion of the class, developed by Professorial Lecturer Barbara Balestra, students will use modeling software to simulate real-world problems, exploring topics such as climate change, air pollution during our current pandemic, and the restoration of a polluted brownfield site.
Do Physics with AU Equipment… Or your Own
In Physics Lab Director Jonathan Newport's PHYS 310, Intermediate Electronics Lab, each student will receive an electronics "kit" to perform lab tasks. And in PHYS 160, Astronomy Professorial Lecturer Aaron Grocholski has developed labs to be performed from home without any specialized equipment; mostly just a computer with an internet connection and periodically a ruler, meter stick, or tape measure.
Attend a Prestigious NIH Symposium on Art and Addiction
The AU Museum is partnering with the NIH and National Institute of Drug Abuse to host a virtual symposium about addiction, stigma, art, and healing. A panel of artists will speak about artistic expression and how art can demystify addiction and reduce stigma.
These are just a few examples of what's going on this fall. Please visit our website to keep up with the latest news and announcements. And visit the AU Course Catalog to sign up for fall classes at the College of Arts and Sciences!