Student Life
September at AU: A Time to Explore Exploring majors, minors, and career options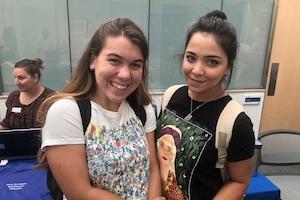 Have you identified your major? Do you have a career pathway in mind?
These are big decisions, and the College of Arts and Sciences Office of Undergraduate Advising wants to help. They have organized a series of events, programs, and workshops to help students identify what they want to study and what they want to do with their careers.
It's called Exploration Month, and it's open to everyone at AU, regardless of class or school, says Emily Jones, director of Advising, Retention and Recruitment for the College of Arts and Sciences.
"Exploration Month is a series of events designed to help students find their major or minor, or learn about opportunities offered by AU," she says. "This is a chance for students to connect with faculty from their intended majors, learn more about the plethora of academic programs from across the university, or (if they are undecided) continue exploring to find the right major or minor."
Career Center Free Self-Assessment
So, where do you start?
One way is through the process of self-assessment, which can help you to identify majors or careers that suit your interests, skills, personality traits, and work values. AU's Career Center offers two self-assessment tools—the Strong Interest Inventory and the Myers-Briggs Type Indicator (MBTI)—that offer suggestions, not answers, for you to consider when selecting your major or career path. The tests are free all month. Stop by the Career Center or see the Free Assessment Promo to learn more.
Events and Open Houses
Throughout September, students are encouraged to take part in a series of events, from the CAS Advising Open House, to Study Abroad overviews, to sessions on a variety of majors, from engineering to studio art.
Students can take a tour of the new Don Myers Technology and Innovation Building, explore the Design and Build Lab, learn about the latest advances in statistics and data science, meet career counselors, and learn about ways to finance advanced degrees.
For more information, see the Exploration Month calendar. There's something for everyone!