Arts
Aaron Posner's John Quincy Adams Play Debuts at Arena Stage Reflections on politics, politicians, and the American character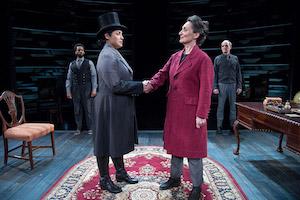 John Quincy Adams, the sixth President of the United States, was a man of many contradictions: complicated and passionate, an unpopular president, a brilliant Secretary of State, and a conservative who opposed slavery and championed freedom of speech.
Now, two American University faculty members — Aaron Posner and Meghan Raham — have teamed up to bring him to life in JQA, a new play that opened to glowing reviews at Arena Stage on March 15. 
"The strong cast and clever production designs are worth the trip alone, but the overall result is something that will linger in minds long after the lights have lifted, much like any presidential legacy," writes Rachael Goldberg in Broadway World. In The Washington Post, critic Peter Marks writes that the play "is revealed as one of the best to emerge of late about the deficits of this political moment."
Bringing History to Life
In JQA, playwright and director Posner (American University's Distinguished Theatre Artist) worked with set designer Raham (Associate Professor, AU Department of Performing Arts) to bring to life conversations between John Quincy Adams and other famous figures including his father John Adams, George Washington, Frederick Douglass, Abraham Lincoln, and Andrew Jackson. In doing so, JQA explores the roles of public service, the presidency, and our government — both past and present.
Posner is an award-winning playwright, director, teacher, and former artistic director of two theatres. His Helen Hayes Award-winning play, Stupid F**king Bird, was one of the ten most produced plays in the country in 2015. He received a commission to write JQA from Arena Stage as part of its Power Play Initiative, which encourages playwrights to write about influential historical figures. Posner says he ultimately chose John Quincy Adams because he represents such a compelling set of contradictions. "JQA was a brilliant man who spoke five or six languages. He was a man of deep integrity. He was also a lousy politician," Posner explains. "He was in many ways a big government progressive. He was also a deeply religious conservative. He became a great way to talk about all kinds of complicated and contradictory forces in American life and politics."
Theatre as a Conversation Starter
In JQA, each member of the four-person cast takes on the character of John Quincy Adams and other historical figures at various times. Two of the actors are women; one is an African-American man. "I wanted this to be a story that reflected America now, so a diverse cast seemed helpful," says Posner. "I also wanted it to be theatrically compelling and economically feasible to produce, so all in all, four excellent actors who could play multiple roles seemed like a good balance."
JQA is not structured like a traditional play. There is no plot. It is a series of ten sketches, each one illuminating an important moment or idea. "I was not telling the story of a life, but more the story of a people's relationship to their government though this particularly esoteric lens," says Posner. "My goal was to be provocative and try to start a conversation about complicated parts of the American character in relation to government."
John Quincy Adams dedicated his life to public service, a concept that Posner believes can shed light on our country and its leadership today. "Of course, there are many well-intentioned public-spirited politicians today on both sides of the aisle who are people of integrity and humanity trying to do their very best to serve their country," says Posner. "And now, as then, there are also many that are quite the opposite. Say what you like about JQA, he was deeply publicly spirited and believed deeply in this country. He served with distinction in some roles, and less so in others. But he gave it his all for nearly his entire life."
A Creative Set Design Challenge
Raham, who designed JQA's set, says that the play's structure, with four actors playing one character, posed unique challenges. "We solved this spatially by having the four actors remain present on stage at dressing tables around the room. The tables had key costume pieces and research images of the historical characters around them," she explains. "We also created four pedestals — one for each of the JQA costumes — so that audiences can visually track the progression of the character from one actor to the next."
Critics applauded her design. "Meghan Raham's set design is minimal and fluid and allows the audience to become immersed in the history without losing the thread that allows them to connect the show's themes to the present," said Broadway World. The Washington Post said that her set, "with its platform ringed by dressing tables, to which the actors retreat from time to time, feels ideally theatrical."
This is not the first time that Raham and Posner have worked together on theatre production and design. Raham designed the sets and/or costumes for six of Posner's productions, most recently Who's Afraid of Virginia Woolf?, directed by Posner at Ford's Theatre in 2017.
The Arts at AU
Both Posner and Raham say their work with students at American University is rewarding and provides them with fresh ideas and inspiration. "I particularly love teaching undergraduates in a liberal arts context, because it feels like all of the doors are always open—we can engage in the big questions and come at things philosophically, but also zoom in to specific technical tools or skills that can help explore or articulate or communicate ideas," says Raham, who teaches scenic and costume design, general education, and specialty courses in object theatre and contemporary American theatre. "I love helping students make connections between seemingly disparate things, and to bring their own experiences and perspectives into the work."
Posner says he is thrilled to be a part of the AU community. "I grew up in a university home — my father was a professor at the University of Oregon — and I have always loved teaching in a university setting," he says. "The theatre department at AU is positive and collegial and very welcoming, for which I am very grateful. I find the students courageous and big-hearted and very engaged in learning, which is not always the case! Having the chance to workshop JQA at AU was a vital part of its development, and two of the key scenes in the production at Arena were started here at AU."
Posner and Raham are already thinking about their next creative projects. But in the meantime, Posner is very pleased with both JQA's process and end product, including the positive reviews and sold-out tickets. "I think the play is doing, in many ways, what I hoped it would," he says. "It is far from perfect, and I hope it will have a future life beyond Arena so I can continue to explore and improve…and of course the country will keep changing, too, so there will always be new and compelling things to write about!"