On Campus
Peer Advisors Provide Student Perspective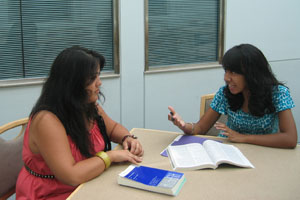 As part of the College of Arts and Sciences' advising office, peer advisors provide undeclared students with one-on-one counseling about course registration, general education requirements, and major selection. But it's their role as fellow students that makes them uniquely suited to the job of helping new students adjust to university life.   
"We offer CAS students the unique opportunity to get advice about classes, professors, and majors from other students that also happen to have knowledge of the advising process," says peer advisor Amber Tollefson.
"As an advisor I can tell the students about the academic side of things, like what courses to take for a major or guide them through the registration process, but I can't speak to the student experience here the way our peer advisors can," says Alicia Mandac, academic counselor and peer advising program supervisor. Senior counselor Marla Boren adds, "It encourages students who may have been reluctant to seek advising to come into the office, meet with a peer, and in the future feel more at home in the advising office."
Peer advisors have held advising tutorials in Bender Library, Mary Graydon Center, the Terrace Dining Room, and a number of the residence halls. In addition to their advising duties, they write a monthly newsletter that highlights professors and classes across the college, offers registration tips, and directs attention to campus resources. As the program enters its second year, there are even plans for a podcast.
But the benefits of the peer advising program don't all go to the advisees. Mandac says the skills the peer advisors gain—advising, counseling, leadership—go beyond that of an average campus job. "I want the peer advisors to feel they have ownership of the program," says Mandac. "That kind of responsibility and leadership lends them a number of marketable skills."