Alumni
Alumna Appointed Executive Director of National Guild for Community Arts Education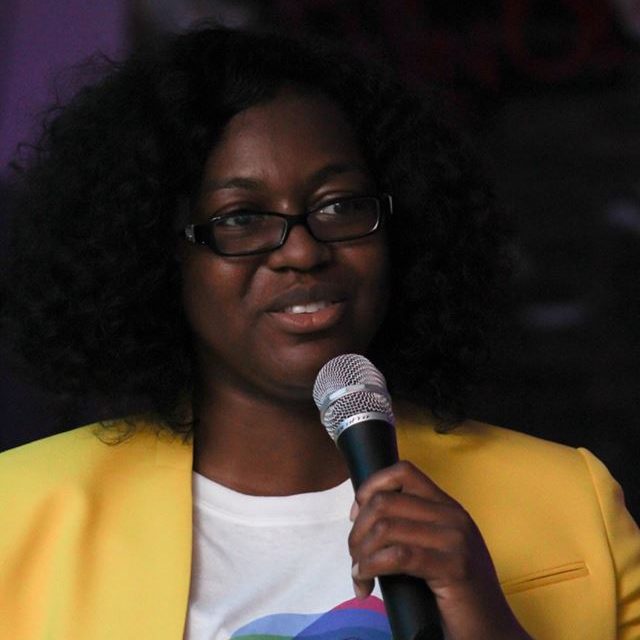 American University MA Arts Management Program alumna Quanice G. Floyd '16 has been appointed the new executive director of the National Guild for Community Arts Education ("Guild"), the national service and advocacy organization for community arts education providers, with more than 400 members across the United States.
Floyd is a dedicated arts advocate, an experienced arts administrator, arts education lobbyist, and champion for justice and racial equity. E. Andrew Taylor, interim director of American University's Arts Management Program, says that her passion and purpose were recognizable from the moment she arrived at AU.
"As a student, and after graduation, Quanice was a tireless champion for positive change in arts education and for equitable and just practices in the arts. This new role at the Guild gives her a national stage to grow her impact toward collective, collaborative, and community-centered leadership in the arts and across arts education."
Floyd says it's an honor to have the opportunity to guide the Guild into its next chapter. "It is a critical time for our sector. Artists and organizations are just beginning to understand the two pandemics we have been reckoning with (white supremacy and COVID-19)," she explains. "We need a space and a place to heal and reimagine — not only to move beyond the moment, but also to make sure these things are not perpetuated for future generations."
From Arts Education to Advocacy
The Guild works to ensure that all people have opportunities to maximize their creative potential by developing leaders, strengthening organizations, and advocating for community arts education. It's overarching goal is to address our country's widening opportunity gap, which leaves millions of individuals with little or no access to the creative resources they need to reach their full potential. 
Floyd's new position at the Guild will require a deep understanding of arts education, as well as visionary leadership and a strong commitment to advocacy. She is more than prepared for the challenge. She graduated from Howard University with a Bachelor of Music Education and Music Teacher Education, and then went on to earn her Masters of Music at Kent State University. She received an MA in Arts Management at AU, and she's well on her way to earning a Doctorate of Education at Drexel University with a projected graduation date in spring 2023.
While Floyd worked as a teacher for eight years in Maryland Public Schools, she observed firsthand how the public school system was failing students of color by perpetuating white supremacy and the ideology of white superiority through policies and standardizing testing. "I wanted to do more and be more for my students," she says. "I was making an impact with them, but I wanted to make a generational impact. I wanted to leave the world better than how I found it so that the next generations could thrive."
Floyd applied to AU's Arts Management Program to empower herself to create change for her students. "I believe that access to arts education is a civil rights issue, and if a student does not have access to arts education, then that is a violent act against the student, their school, and their community," she explains. "AU's program was a way for me to transition from being a classroom teacher to being an arts education advocate and equipped me with the skills to better understand the business side of the arts and culture sector."
Floyd also believed that AU was the best place for her because the program felt less of an academic structure and more of a familial structure. "Our cohort was small, and the professors cared about us humans," she says.
Advocacy, Excellency, and Empowerment
In 2016, Floyd founded (and directed) the Arts Administrators of Color Network, an organization committed to empowering artists and arts administrators by advocating for access, diversity, inclusion, and equity in the arts in the DC and Baltimore metropolitan areas.
She left teaching in 2018 and worked at the Guild for. the first time in 2019. She has also served as executive director of Arts Education in Maryland Schools (AEMS), inaugurated an annual Anti-Racist Arts Education Symposium, and advocated successfully to pass a law to fund AEMS's arts education data collection efforts.
In 2020, she was awarded Arts Advocate of the Year by the Coalition for African Americans in the Performing Arts. She currently serves on the DC Commission of Arts and Humanities as the chair of IDEA (inclusion, diversity, equity, access).
A Long Relationship
Floyd first became involved with the Guild as a volunteer in 2015, and then went on to join two of the organization's member networks — the Emerging Leaders Network and the ALAANA (African, Latinx, Asian, Arab, Native American) Network. In 2018, she was accepted to the Guild's Community Arts Education Leadership Institute, receiving its very first Alumni Scholarship. She then served as the Guild's director of Learning and Leadership Development, and as staff liaison to the board's Racial Equity Committee. 
The Guild notes that in her journey from volunteer, to program participant, to staff member, now culminating in a return as executive director, Floyd exemplifies the power of investment in leadership pathways.  
For Floyd, leadership is being human and understanding that others are human; leadership is doing what's right. "The field needs leadership that is collective, collaborative, and community-centered, and the Guild will be a place that embodies, supports, and grows that type of leadership," she says. "Community arts education plays a significant role in strengthening relationships with our communities, and I am looking forward to helping the Guild and the sector be the change we want and deserve to be."