Alumni
Alumna Named Executive Director of Kalamazoo Symphony Orchestra Jessica Mallow, arts management alumna, will start new position in December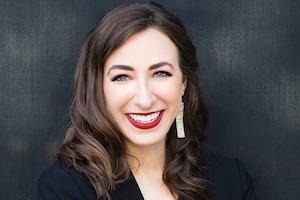 Effective December 3, 2019, AU alumna Jessica Mallow (MA arts management '16) will lead the Kalamazoo Symphony Orchestra (KSO) as its executive director, as the organization prepares to enter its 100th anniversary season.
Mallow, who currently serves as director of business partnerships at Jacksonville Symphony, Florida, brings valuable experience and expertise in management, development, and community involvement from her previous nonprofit administration in Florida and Iowa — and from her time spent in American University's Arts Management Program.
"We're so pleased and proud that Jessica is bringing her graduate training and professional acumen to this important creative and community work," says Andrew Taylor, chair of American University's Department of Performing Arts. "And we congratulate the Kalamazoo Symphony Orchestra musicians, board, and staff on a wonderful choice to lead them into their centennial celebrations."
Partnerships and Collaboration
"Jessica brings a strong background in orchestra management and building partnerships to the Kalamazoo Symphony Orchestra," said Pamela Enslen, KSO board chair. "We are pleased to welcome her to Kalamazoo and excited to introduce her to our community. We are confident she will build strong collaborative relationships with the board, staff, musicians, and community as we head into the KSO's centennial year and beyond. This is an exciting time for the Kalamazoo Symphony, and we are confident Jessica will bring innovation and energy to the KSO moving forward."
"Musicians are looking forward to collaborating with our new executive director," said Noah Krzan, KSO bassist and chair, Musicians' Committee. "Pairing new executive leadership with our relatively new Maestro Kuerti and his dynamic artistic vision should translate to a wonderful remainder of season 99 and an even more exciting 100th season."
About the Kalamazoo Symphony Orchestra
Founded in 1921, the KSO is Southwest Michigan's premiere musical organization and the state's third largest orchestra. The KSO and its more than 80 professional musicians provide more than 40 concerts and over 100 ensemble and small-group performances across the region.
With a vibrant educational mission, the KSO offers school-based programs that music teachers rely on to support their curriculum and after-school programs that have been recognized by Carnegie Hall's Weill Music Institute. The KSO has won numerous awards and grants, including a major Ford Foundation grant to establish its innovative Artists in Residence program.