Humanities
American Studies Day 2014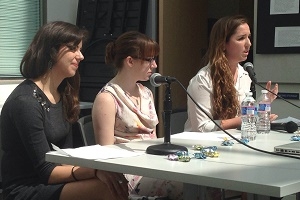 The American Studies Program would like to thank everybody who participated in or attended American Studies Day 2014, and for making it a success!
American Studies Day was held on Wednesday, April 9, in the Battelle Atrium. We hosted four main events: two paper presentation sessions, a panel delivered by one of the spring 2014 classes, and a talk from our keynote speaker, Jeffrey Pilcher, as well as lunch and an evening reception.
The day started at 12:30 p.m. with the students in Katharina Vester's senior seminar Interpreting American Culture presenting their individual research projects over lunch. The papers by Estephanie Amaro, Matt Cekutta, SJ Jeong, Allison Pierce, Jon Rich, Samantha Theriault, Lindsay Sandoval, and Daylyn Weppner discussed video games, country music, Beetle advertisements, the Occupy movement, the space program, the commodification of hipster culture, and the promotion of white values in "feel good" movies. The audience helped advance the projects by asking challenging questions and offering comments and insights.
In Monique Laney's panel "Science Fiction and American Society," students went up in small groups to discuss various aspects of Sci-Fi films, such as time travel, flying cars, artificial intelligence, and special effects. They not only explored how Americans imagined their future but also how Sci-Fi films provide commentary on the present.
In our Best American Studies Papers of 2013/2014 panel, five contestants competed for the award: Erica Reinhard with "Drugs on Screen: Tobacco and Popular Media," Jared Kroening with "The Vampire Mystique & The Problem that has No Reflection: Vampires in Conversation with Second Wave Feminism," Sean Donovan with "Vampires on the Frontier: White Fear in Curse of the Undead," Lindsay Sandoval with "Icing on the Cupcake: Baking, Blogging and the Promise of New Domesticity," and Cienna Breen with "Queer Representation in Buffy the Vampire Slayer: Willow Rosenberg and Tara Maclay." The award, together with a $100 Amazon gift card, went to Sandoval, with Breen as the runner-up.
Lastly, Jeffrey Pilcher joined us from the University of Minnesota. His talk, "Burrito Madness: How a Mexican Street Food became an American Icon," explored the history of the wheat tortilla, its ascendance to the burrito, and its reception in the U.S. We ended the day with a reception catered by Chipotle.
It was an entertaining, informative day, and we would like to thank our presenters, audience, and supporters again. See you at American Studies Day 2015!