Science Fiction Is Real – Is the Workforce Ready? American University's Data Science MS Program Prepares Future Federal Employees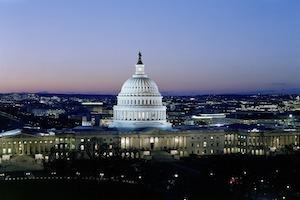 It's 8 a.m. on a Monday morning. The coffee maker automatically grinds beans and begins percolating while the refrigerator recognizes it may be out of coffee creamer. A nearby Amazon Echo adds creamer to a digital shopping cart while slowly turning up the lights and playing gentle music to wake you up as you begin your day.
Once a scene only found in science fiction literature and cult classic television, the realities of our technological advancements have become part of our daily functions. Data transfers across the web are immediate and constant. Access and analysis of this data is not only necessary, it's essential, and the federal government is taking notice.
Data Scientist Job Boom
Currently there are thousands of data scientist jobs across DC, and with demand predicted to increase by 28 percent by 2020, the federal government is working hard to recruit top talent in the field. As one of the largest collectors of data in the world, federal agencies need data scientists to process massive amounts of information to improve operations from FBI security clearances, qualifying applicants for HUD housing opportunities, and even mail sorting in the United States Postal Service.
In fact, the US Office of Personnel Management (OPM) has announced its efforts to become more efficient and effective in a data-driven world faced with a future of automation and artificial intelligence. Their solution? More data scientists. American University's solution? Equiping those data scientists with the tools they need meet that challenge.
American University's new Master's Degree in Data Science is preparing students with the skills to crunch that data with hands-on approaches and cutting-edge methodologies that put them at the top of this competitive field.
AU's On-ramp to Success
Inviting undergraduate students and mid-career professionals of any background, especially those without analytical training, makes American University's Master of Science in Data Science unique.
Whether students have had two years of calculus or one semester of statistics, the Master of Science in Data Science offers a "gentle, but steep, on-ramp" for those who may not have a strong technical background, according to Jane Wall, senior professional lecturer in the College of Arts and Sciences' Department of Mathematics and Statistics and director of the Data Science Program.
"Every field needs these skills and our challenge is getting people trained up enough," said Wall, who noted the program's accessibility to students across disciplines addresses a niche that separates the degree track from those offered at other universities.
Recognizing that many employees working in some government capacity earned degrees without data science skills, AU's Data Science Master's program offers a way to prepare federal staffers for the inevitable changes around the office. Tailored for a busy work schedule, the program is flexible, offers specific course concentrations related to a field of interest, all while providing student support to ensure success.
Incoming students without sufficient math background must complete a mathematical boot camp to be prepared for the start of the program.
A Program That's Always Adapting
While a graduate certificate in data science found its way into the curriculum three years ago, it is a fresh field of study. The program currently provides the foundation necessary to get a foot in the door and hit the ground running, while the team at AU is commited to ensure the program remains flexible to adapt to the latest technological advancements.
Students can expect to be at the helm of whatever tools the future holds, Wall noted. "You can be a science fiction writer and predict which direction we are probably going."
Please visit American University's Data Science website to request more information, visit our campus, or apply for the program.