Achievements
Excellence in Undergraduate Advising Award Winner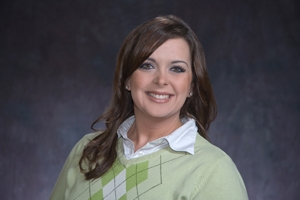 Andrea Malamisura, senior academic advisor in the College of Arts and Sciences Advising Office, has been honored with the annual Excellence in Undergraduate Advising Award. She received the award at a reception in early April for the entire university advising community.
Malamisura says that this award is her proudest accomplishment. "This is recognition from both students and faculty that what I am doing is making an impact on the AU community."
Since 2010, Malamisura has helped students to understand and navigate AU's academic programs. The College advising department practices this commitment to students needs. "We are all very student centered. When students come in with any kind of issue, we make sure that we listen and find an answer for them," she says.
Malamisura began her career in the Department of Higher Education at Virginia Tech. Starting off as a student worker, she gained exposure to advising and administrative work. This role grew as she completed her graduate degree in counseling. She moved into recruitment and career advising, and then, finally, into the to work that she is doing now. "That's where I fell in love with academic advising," she says. 
Malamisura's favorite part of her job is being able sit down and talk to the 10-15 students that she meets with each day. From these interactions, she is able to observe the students develop and progress through their time at AU. 
Emily Jones-Green, director of advising, retention, and recruitment at the College of Arts and Sciences says, "Andrea is the type of person that people immediately want to befriend. She is enthusiastic, caring, and adaptable—a true team player. You can count on Andrea to be conscientious and compassionate while working with students. Her positive energy helps to make the office a stimulating environment and a wonderful place to work. She is truly deserving of this award."