Department Spotlight
Carmel Institute Celebrates Work of Soviet Filmmaker Andrei Tarkovsky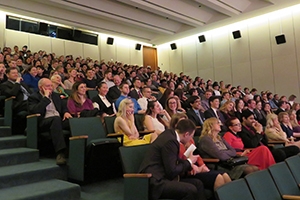 Kicking off a spring semester filled with art, music, and cultural dialogue, AU's Carmel Institute of Russian Culture and History hosted a screening of the 1966 Soviet Russian film Andrei Rublev at the Embassy of the Russian Federation on February 28.
Students from American University, Georgetown University, George Washington University, the University of Maryland, and other DC Consortium schools mingled with members of the DC community at the embassy throughout the night. Guests enjoyed a buffet dinner of traditional Russian food and desserts before filling the auditorium for the film screening.
AU and the Carmel Institute 

In 2015, international philanthropist and businesswoman Susan Carmel Lehrman established and endowed the Carmel Institute in honor of her late husband, Robert Carmel. Since then, the Institute has introduced different aspects of Russia's rich cultural history to DC students and community members through concerts, galas, symposiums, and a variety of other events.
Sophomores Aaron Rose and Erin Rains, both students in the Russian program at AU, said that they make an effort to attend every event hosted by the Carmel Institute. "There's a very wide range of different types of cultural events, so we learn a lot about history and art and music," said Rose. Rains agreed, adding, "I'm in an SIS research class on ethnography this semester, so I'm hoping to use this screening as a part of my research project for the course."
Guests at the event also included several AU alumni. Since his graduation from AU in 2015, alumnus Timothy Young has continued to attend events at the Carmel Institute. "I've been going to these events for several years," Young said. "I have always had a great cultural affinity for Russia, and this is a way for me to continue my cultural education and learn how [the Russians] interpret themselves through film."
Senior Rhys Leahy noted that the events serve both to enhance the educational experience of students in the Russian program and to create an enthusiasm for Russian culture among students outside of the program.
"I spent the year in Russia on a State Department exchange, so these events are a great opportunity to continue practicing the language, learning about the culture, and connecting with the Russian community," Leahy said. "The initiatives are great for people-to-people connections rather than people-to-government connections, and they have definitely helped me understand Russian cinema and how cinema connects to life in Russia."
Young observed that the Carmel Institute's film screenings provide an interesting way to gain an understanding Russian culture and history. "You're able to learn history through film," Young said. "The films are not always truthful about history, but they show us the perspectives of those who made them."
Andrei Rublev: The Film 

Clocking in at three and a half hours long, Andrei Rublev is widely regarded as an epic cinematic masterpiece. Renowned Soviet Russian filmmaker Andrei Tarkovsky loosely based the movie on the life of Andrei Rublev, a 15th century Russian icon painter.
Before the screening, Carmel Institute Director Anton Fedyashin delivered remarks on the film's historical context. "The remarkable thing is that we don't know much about Andrei Rublev, so the film is more about his time," said Fedyashin. "The early 15th century was a time when Russian national consciousness was coming into being, and Russia was affected both by Mongol presence and by spirituality."
Fedyashin also noted the paradoxical creation of the overtly religious Andrei Rublev in the atheistic society of Soviet Russia. "In the 1960s there was a genuine revival of interest in medieval history," said Fedyashin. "There was an interest in icons both in the West, which made smuggling them very profitable, but also in the Soviet Union as symbols of culture."
Despite this revived interest, the spiritual tones and political commentary of Andrei Rublev led to controversy over its release. After a single screening in Moscow following the film's completion in 1966, the movie was not commercially released until 1973. Since then, Andrei Rublev has received widespread acclaim as one of Tarkovsky's finest works, and is considered a striking portrayal of a defining moment in Russian history.
Spring Events at the Institute 

The Carmel Institute will continue its spring events this semester with a symposium at the Hillwood Estate & Museum on March 30 and a screening of The White Sun of the Desert at the Russian Embassy on April 11.