Humanities
You Can Go Home Again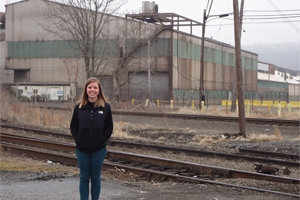 Four years ago, I left my hometown steel community in western Pennsylvania to attend college. If you had told me then that I'd return to document the memories of the people who knew the history of this once thriving rust-belt town, I would have told you that you were crazy. Certainly I didn't expect their stories to change the way I thought about my home. But that's exactly what happened. 
When I graduated from high school in 2009, all I wanted to do was get out of Ohioville. The town is an hour northwest of Pittsburgh and in what I considered the middle of nowhere. I was tired of seeing the same people everywhere I went, of having no cell phone reception at my house, and going to the same bar every Friday night for fish salads with my family. Ohioville and Beaver County would always be home, but there was nothing interesting enough to make me want to stay. 
I came to AU, where I decided to double major in journalism and history, and went back to Ohioville for breaks. During my sophomore year, I took an oral history class with Pam Henson. Our final project was to conduct oral history interviews on a topic of our choice. I immediately thought of my hometown. 
Ohioville is a rural "suburb" of the steel town of Midland. Founded by the Midland Steel Company in the early 1900s, Midland became an industrial hot spot that revolved around a steel mill. During its heyday in the 1950s and '60s, the mill, owned by Colt Industries, went by the name Crucible. It seemed as though everyone worked at Crucible, including my grandfather and uncle, until it closed in 1982 and devastated the surrounding area.  
The mill reopened in 1983, but it employed only a few hundred people instead of a few thousand. People left the community in droves to find work. The Midland school district had to close its high school because of low enrollment. Virtually drained of its former life, Midland became an empty shell. 
It was the perfect topic for an oral history project. Knowing next to nothing about the Crucible mill, I decided to interview former mill employees about what it was like to work in the mill and to be laid off and have to search for a job. I was also interested in their reflections on the present.  
Sitting at people's kitchen tables, I heard stories about a Midland that was clogged with traffic and a main street that was lined with businesses—certainly not the case today. People told me about the dangers of working in the mill and also how they enjoyed working there, that it provided a good living. And they told me why they had left and why they had stayed.  
As I listened to their stories about how prosperous the area had been—and how much everything had changed—I found it remarkable that they could look back so positively on an industry that virtually did them in. Even 30 years later, how could they not be bitter? 
In those questions, I found my thesis. 
After my oral history class project was over, I continued to interview mill workers, their wives, their children, school board members, church workers, and the current president of the steel workers union. I poured through microfilm of the Beaver County Times from 1982 and looked through old photos in local archives. I toured the downsized mill and felt the heat of molten orange steel as it poured in front of me. I listened to 14 oral history interviews over and over, trying to find answers to my questions. 
Ironically, over the past year I took every opportunity to return to the community I was so eager to leave to conduct interviews and do research. During my final semester, as I wrote and thought about how to present my research on History Day in April, I found myself feeling homesick for Ohioville after listening to these stories from home. I thought about what my life might have been like if Crucible had never closed, and I wondered if I will return to the Beaver Valley, as some displaced steel families did. 
I don't know whether a senior thesis normally prompts such soul searching. But through the process I have come to understand my community better and feel proud of it. It has also helped me realize that every place has a history that is just as important as any history you read about in a textbook—if not more so. This little corner of western Pennsylvania is home, and its history is my history.