First Person
Great Dismal Swamp Archaeology Field School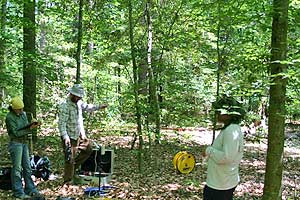 This summer, the Department of Anthropology held its first Great Dismal Swamp Archaeology Field School. The six-week program was led by professor Dan Sayers. Below, anthropology graduate student Jordan Riccio shares his experience taking this unique course.  
I first heard about Great Dismal Swamp Archaeology Field School when I met Dan Sayers, the anthropology professor who heads the program. The field school sounded like a great opportunity, and I was quick to join. As an incoming graduate student, this would be my introduction to classes at American University. I was fortunate enough to have participated in a field school with my undergraduate institution, St. Mary's College of Maryland, and had some idea of what I was signing on for. 
I arrived to campus with my pack on my shoulder and notebook in hand. Before visiting the swamp, we spent time learning intensive background information on archaeological methodology and the history of the swamp itself. After three days, we were ready to take on the swamp.            
Upon arriving at the Great Dismal Swamp, I was amazed by the size of it. I had seen the maps but found myself in awe of the landscape. The drive to our walking path took a long time, another testament to the swamp's unexpected size. The great blue Suburban came to a stop, and we piled out to gear up. This process involved lots of Deet (to keep the mosquitoes at bay), our muck boots, mosquito nets and whatever equipment was needed in the field that day.            
My first few steps into the swamp were cold, wet, and extremely muddy; I knew at that moment that this was truly going to be an adventure. I had spent the years since my graduation in my hometown of Easton, Maryland, and found the swamp to be an exciting environment for my first graduate course. The first day through the swamp was slow because Dr. Sayers had to cut a path through the brush while guiding us through the black tea colored water. We then had a moment to switch from our water boots into hiking boots before continuing our journey on land. After another 20-minute trek we made it to our dig site, a canopy of tree covered land that once would have been ripe for human habitation. We began our fieldwork with a lesson in shovel test pits; we dug 3 test pits in half-meter squares, one of which seemed to be worth expanding. 
Dan Lynch, a professional archaeologist who specializes in geophysics, joined us in the swamp and began teaching us the ways to apply his geophysical tools to our work. He used four instruments to non-invasively locate anomalies within the ground. Several students went to help in his search, and the others began to dig 1x1 meter excavation units and then they switched roles. After setting up grids and ropes, we were instructed on the use of these machines. Once finished, Lynch plotted the data received and produced some amazing maps. He was able to show us a series of anomalies, which we quickly began to investigate. One of these anomalies turned out to be a possible fire pit, a very exciting find.
During the next several weeks in the field, the Great Dismal Swamp proved to be a fantastic place full of wildlife and history. Bears, deer, turkeys, and many other creatures could be seen while driving through the great swamp. Once on land you had a chance to have giant dragonflies swoop down and greet you. I will never forget the weeks we spent in the swamp, and it seems fitting that the last day, we were lead out by two herons in flight.