On Campus
Reinventing Anthropology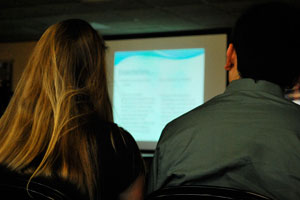 On December 7 at 6 p.m., students from both fall sections of the graduate class Reinventing Applied Anthropology will present their final presentations in an interactive, art gallery-style format in the Butler Board Room.  
Instead of PowerPoint presentations and papers, students will present audio and video projects, zines, Web sites, posters, as well as work in other creative media. Topics will include healthy food access, the non-profit industrial complex, advocacy for victims of sexual violence in DC, and post-traumatic stress disorder in soldiers who served in Iraq. 
Adrienne Pine, anthropology professor and course instructor, says that both the unique presentation format and the multimedia projects nicely complement a class about "reinventing" public and applied anthropology and critiquing state power.  
"In a public anthropology class, in particular, it's really important to break out of the term paper format and work with media that are going to be exciting and interesting to a broader public than just anthropologists," says Pine. "I also think it's a way for students to get excited about each other's projects in a way that they don't in a normal class, where […] people do their own projects and it's between them and their professor. I'm hoping to break out of that mold." 
Admission is free and open to the public. Refreshments will be provided.