Research
Anthro Prof Awarded $200k for Dismal Swamp Project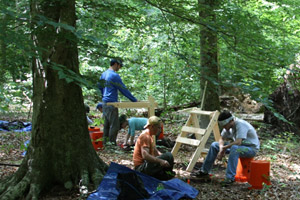 Earlier this month, anthropology professor Dan Sayers received a 3-year, $200,000 We the People grant from the National Endowment for the Humanities (NEH) for his project entitled, "Nineteenth-Century Tidewater Resistance Communities: The Forgotten Social History of the Great Dismal Swamp." The grant will support the Great Dismal Swamp Landscape Study (GDSLS), an ongoing, collaborative project examining the effects that colonialism, slavery, and industrial development have had on the site since Europeans first discovered it in the 1600s.
"This next three years reflects a need for this research program to expand beyond archaeology," says Sayers. "This grant is in effect allowing the GDSLS to support interdisciplinary research."
Researchers from a variety of disciplines will be joining Sayers on the project, including fellow AU anthropologists Sue Taylor and Lance Greene, cultural geographer Carolyn Finney (UC-Berkeley), historian Brent Morris (Cornell University), ethnographer and folklorist Jeff Tolbert (Indiana University), geophysical archaeologist Dan Lynch (UMass-Amherst), and archaeologist Will Moore (William and Mary's Center for Archaeological Research).
Located on the border of Virginia and North Carolina, the Great Dismal Swamp has a rich history. The swamp was once home to maroon communities of runaway slaves and Indigenous Americans; it was also the site of George Washington's failed Dismal Swamp Land Company in the 1700s. The swamp continued to be a lumbering site until the 1970s, when it became a national wildlife refuge.
For its duration, the grant will also help support the GDSLS Archaeology Field School. Run by AU's Department of Anthropology, the field school is a 7-week summer program that provides undergraduate and graduate students with the opportunity to gain hands-on experience at one of the few active excavation sites in North America that focuses on maroons.
The NEH is an independent federal agency dedicated to supporting research, education, preservation, and public programs in the humanities. This spring, the organization awarded over $20 million to high-profile humanities projects across the country.