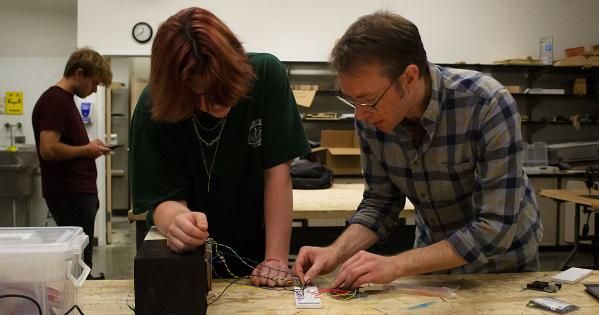 This fall, Associate Professor Andy Holtin in the Studio Art Program debuted a new class: Art and the Machine. This 100-level class is a selection in American University's Core curriculum, fulfilling the Habits of Mind, Creative-Aesthetic Inquiry requirement – courses meant to spark curiosity and questioning. Holtin says that the class "blends artistic inquiry and technical skills," with students exploring the possibilities of electronics in art by building objects with the ability to interact via sensors, through light, sound, and motion. The course involves coding and the use of LEDS, circuits, motors, and fabrication in collaboration with the Design and Build Lab (DaBL).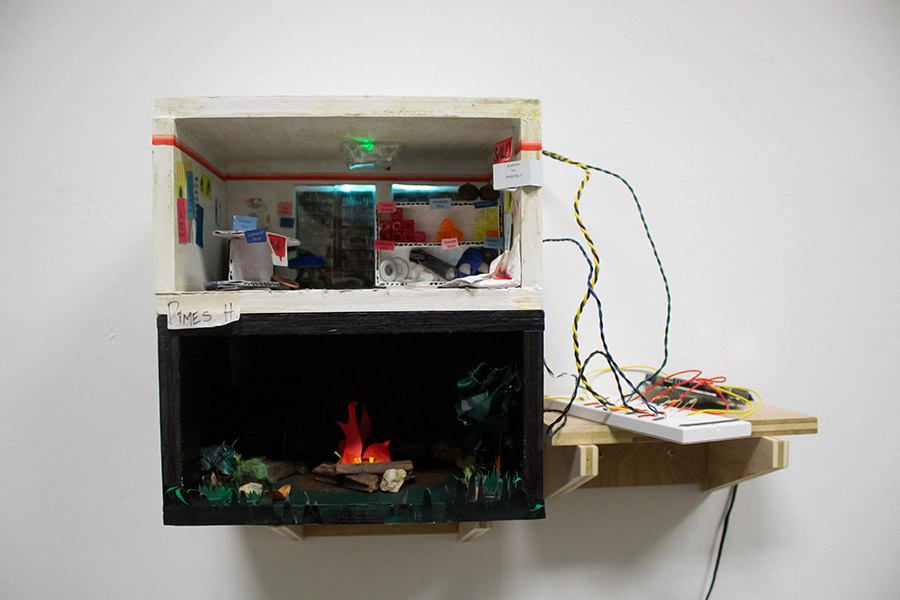 Technology is increasingly used as a tool by artists to create unique experiences for viewers in our digital age. Holtin's own practice relies on technology to animate objects and create interactive installations through various materials. When envisioning the class, he considered how art should be defined. "Technology competes with the elemental building blocks of what 'art' is—painting, sculpture, and printmaking—that are culturally specific. These ideas shift what artistic material is and should be—there are other ways of defining not just what art is, but what skill is."
An Interdisciplinary Experience
Since previous experience in art, coding, or electronics isn't required to take the course, students from different backgrounds, many of whom would not have considered themselves artists, were drawn to sign up. The students shared "a self-selecting adventurousness," according to Holtin. Of the 12 enrolled in the class, he says "Most are interested in art or design but are unsure what that means yet. About 40% are art students, 40% are computer science students, and then the other 20% are people who were willing to take a bet and see what's out there."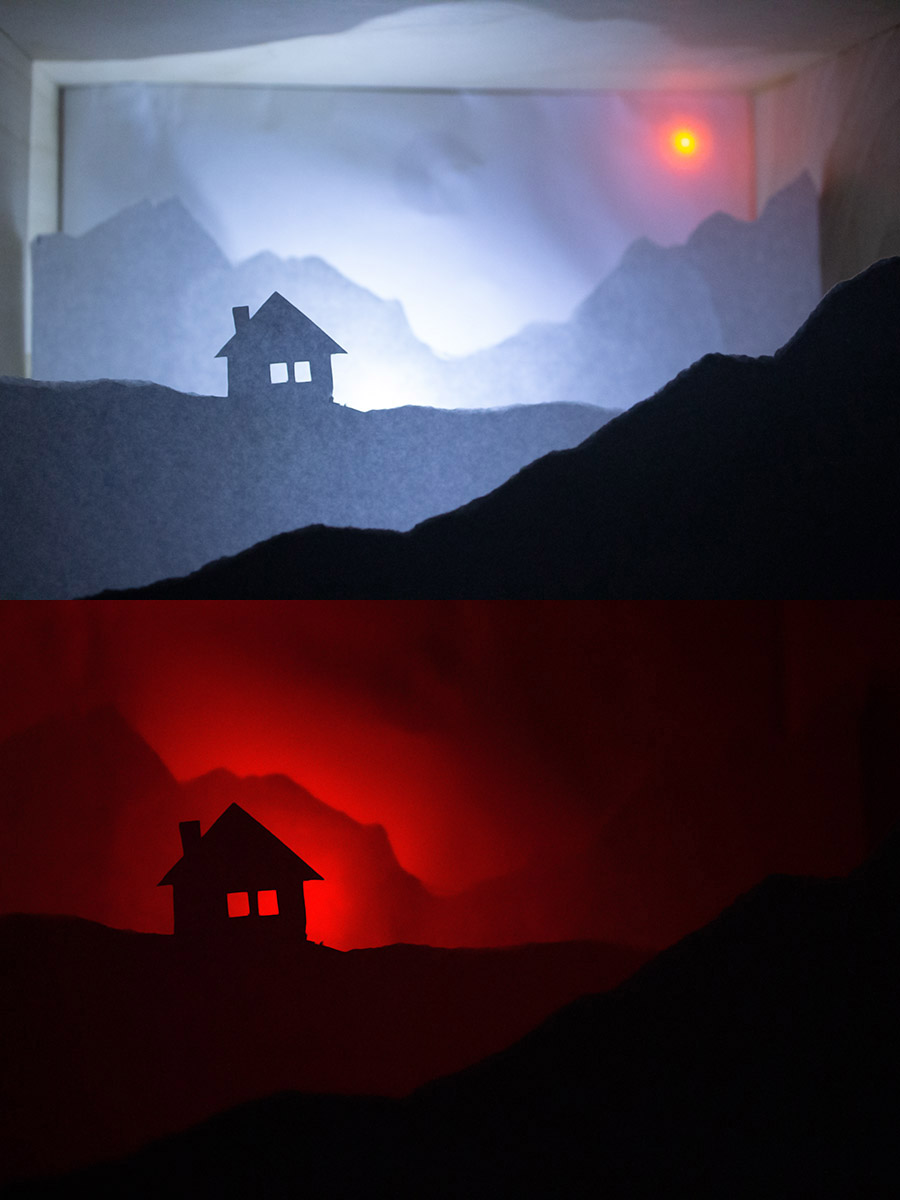 Throughout the semester, the students worked on projects that connected machines to familiar human experiences through inputs and outputs that can be controlled. For example, a viewer's movement can trigger a machine's sensor that lights up to mimic a flickering candle. This process involves programming LEDs at different timings to mirror the movements of a real flame, blending both coding and artistic modeling. For their final projects, students created their own objects with Holtin's supervision and DaBL's support. Holtin says, "The students all developed individualized relationships to the story they were telling." Often sentimental, these projects used the seemingly utilitarian features of technology to create experiences with emotional resonance.
Making Machines 
Dimes Horner, CAS '25, a graphic design major and computer science minor said, "I was initially drawn to Art and the Machine due to it combining material from both my major and minor, so it seemed right up my alley." Horner's project captured the memory of two places that represented summer—a feeling of belonging and developing lasting friendships. The top diorama is of a frequently-visited convenience store, with blinking fluorescents and drink cooler lights, and the lower is a campsite with campfire and night sky recreated through code with LEDs. Horner says, "Figuring out how to use coding to enhance my art has definitely been a learning experience, but working through the potential roadblocks always ends up making the final product much more satisfying to present."  
Huaming Zhang, CAS '23, a graphic design major, said, "The class gave students incredible freedom and range to create our work. Also, it shows the way that coding combines with art, which may become the trend of art's development in next few decades." His final project showed the same landscape by day and night through lighting effects. "The inspiration for my work is wasted time, shown in the passing of each day. Sometimes I feel as if I have not done anything, but time has still passed."  
While often personal, the themes explored in the class also have larger implications for our society, as technology plays an ever-increasing role in our lives. Holtin says, "Art is a lot of things—for one, it provides a place for society to process change. We're exploring what technology really means for us."
Photos by Olivia Bloch