Arts
Beyond the Binary: Race-ing Art
The first event features visiting speaker Michele Greet.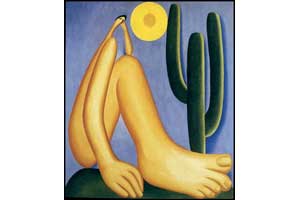 On October 6, visiting speaker Michele Greet presented "Devouring Surrealism: Tarsila do Amaral's Revision of European Primitivism" at 6 p.m. the Abramson Family Recital Hall.
The presentation was the first event in Beyond the Binary: Race-ing Art, the Department of Art's fall installment of the Art Colloquium for Critical Inquiry Series. Beyond the Binary examined artistic processes and analyses through the complicated lenses of race, ethnicity, and identity. The series took place in October and November.  
An assistant professor of art at George Mason University, Greet examined Brazilian artist Tarsila do Amaral's relation to surrealism in the 1920s, as well as her reaction to the primitivist fantasies that existed in Paris during that era. Her first book, entitled Beyond National Identity: Pictorial Indigenism as a Modernist Strategy in Andean Art, 1920-1960, was released this fall as part Penn State University Press's Refiguring Modernism Series.  
The fall 2009 series also featured Howardena Pindell, professor of art at Stonybrook University, and Sanford Biggers, affiliated faculty at Virginia Commonwealth University and visiting scholar at Harvard University. The series ended with a panel discussion of the series theme featuring Pindell and Biggers, as well as Michele Kong, visiting artist at Rhode Island School of Design; Galo Moncayo, assistant professor of fine arts at Indiana Universitiy; and Isabel Manalo, adjunct professor of art at AU.  
Admission to all Arts Colloquium for Critical Inquiry Series events is free.