Arts
Celebrating inSPIRATion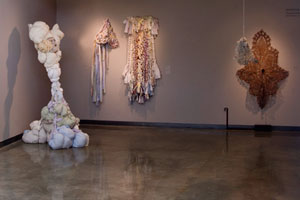 The 15 diverse shows that comprise inSPIRATion, the multifaceted exhibit entering its final week at the American University Museum in the Katzen Arts Center, explore why artists create and how artists relate to the things they find inspiring. Each of the exhibits features a contemporary artist or artists working in mediums ranging from found objects and photography to graffiti art and the spoken word. And each exhibit was individually curated by a student in the Arts Management Program's Curatorial Practices class.   
"The students came up with the title, [inSPIRATtion], as a unifying theme for the diverse shows," says Jack Rasmussen, course instructor and the museum's director and curator. "'What inspires you?' Each artist and curator answered this question."  
The exhibit showcases a wide array of artists, both local and international, who use painting, sculpture, photography, assemblage, and sound to engage museum visitors in questioning history, politics, science, and culture. Featured artists include Teodora Cotan Gavrila, whose paintings reimagine DNA; Lisa Schumaier, who fires her ceramic sculptures using the Japanese process of raku; and Juan Pineda, who created a new mural inspired by graffiti art for the exhibition.  
The Curatorial Practices course was designed to give arts management students the opportunity to experience the process of programming an exhibit. "It was great to go through the process from start to finish because a lot of times [the process] takes years," says arts management student Allison Peck.  
For her part of the exhibit, Peck chose to highlight the work of Michael Lease, a Virginia artist who works in found photography. Peck says she was taken with the perspective in Lease's work and with his ability to turn everyday images into poignant artifacts.  
Peck feels the course and her classmates taught her invaluable lessons. "In the art world it's important to understand all aspects of the organization in order to really understand your job," says Peck, who hopes to work in the marketing and business side of a large art museum after graduation.  
"The course is designed to be an intensive, hands-on experience that is about as close to reality as [a student] can get," Rasmussen adds. "I believe it is important for students to feel they can participate in the creation of their own culture, and our museum is one place where this can happen."  
InSPIRATion runs at the American University Museum through Sunday, June 6.