Arts
Feinberg's Photos Capture a Different Side of D.C.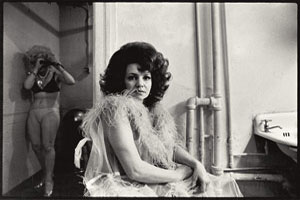 Local Washington, D.C. artist Paul Feinberg's show Another Washington is currently on display at the American University Museum in the Katzen Art Museum. These personal photographs of life in the District will be showing until October 25.
The exhibit consists of 71 black and white and color photos taken by Feinberg over the past 35 years. Many of these shots have been shown in local area magazines, including the Washingtonian and the Washington Post Magazine.
Feinberg is known for realistic portraits that reveal a Washington rarely seen by tourists. His photos depict the less-celebrated people and places of in the nation's capital—a man sitting in a tattoo parlor, a mechanic with his dog, or a local convenience store with bars on the windows—thus capturing a grittier, more realistic side of D.C.
"Though Feinberg often points his camera at the seedier side of Washington, there is still a feeling of innocence to the exhibit." says Jack Rasmussen, museum director, "We are excited to discover the tremendous variety of places and people in our community and each one of them has a story that Feinberg captures."  
Feinberg will give a Gallery Talk September 26 from 4–5 p.m. in the museum.