Arts and Culture
Art's Broadening Vision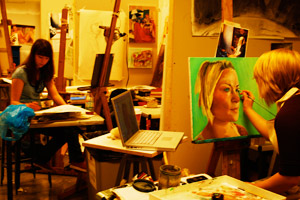 The study and creation of art are increasingly multidisciplinary endeavors. For today's artists and art historians, critical awareness of a range of disciplines—from philosophy and sociology to politics and neuroscience—is as important as understanding line and form, contrast and balance.
AU's Department of Art reflects this need for multidisciplinary critical inquiry through its teaching, research, and programs. "Critical inquiry is really central to any type of academic research at this point in time," says Helen Langa, art history professor and art department chair. "You're always looking at the ways that people who preceded you developed their concepts—and asking questions about how their ideas should be considered in your own work."
The department's Critical Inquiries Colloquium Series teaches students to examine their research and studio-based work. By focusing each semester on a different theme in modern and contemporary art, the series encourages participants to explore connections between the arts and other disciplines—and within the arts.
"Art historians tend to feel divorced from the object and the artistic process," explains art history professor Kim Butler. "This series encourages artists to think historically to some degree, and encourages art historians to think more about process and meaningful engagement with the object."
Since Butler and studio art professor Tim Doud began running the series together in fall 2007, colloquia have addressed such topics as feminism, masculinity, and abstraction in contemporary art. The series will resume next fall with Beyond the Binary: Race-ing Art, an exploration of the roles that race and ethnicity play in artistic process and analysis within the complex spectrum of personal identity and race.
For studio artists, critical approaches to perspective and identity have changed the very meaning of what it means to create art. "Until the mid-1800s, art was being made for artistic reasons and talked about in terms of its formal artistic qualities, like composition, color, and form," says Andy Holtin, studio art professor and sculptor. "When the photograph ended up doing the job of representing, painters were left asking, 'What is it that we're doing?'"
Artists' increasingly reflective responses to this question over the past century and a half have given rise to philosophical definitions of art that are oriented around the artists' experiences and perspective. For Holtin, this has meant the opportunity to push his work beyond the traditional boundaries of art. His sculptures—electromechanical, interactive pieces that explore the concepts of space and time—stem as much from his research on neuroscience theory and linguistic history as his artistic training.
Art historians make critical inquiries that examine historical and cultural perceptions of artists' identities. Langa's research focuses on how the absence of sexually identifying imagery in work by American lesbian artists from 1890 to 1970 may reflect unfavorable perceptions of gays and lesbian characteristic of the era: "You have to ask how people defined themselves during that time, what the terms were that they could have used to do so, and if they wanted to use those terms."
Meanwhile, Butler examines Raphael's use of the Madonna as a vehicle for fashioning an artistic persona for elite audiences during the Italian Renaissance. Her project entails interdisciplinary analysis of Renaissance literary and religious culture, gender assumptions, and aesthetics.
For graphic designers, critical inquiries often focus on the identities of the clients they are representing, as well as the audiences those clients are trying to reach. "Being a graphic designer requires that you be a translator of sorts for messages between [a client] and an audience," says Chemi Montes- Armenteros, professor and director of the graphic design program. This means that designers must consider the various identities of the target audience when creating their work; it also means that they must use materials and methods of communication that reflect the client's professional identity.
AU's general education offerings provide an ideal environment for teaching effective critical inquiry in the arts. "Interdisciplinary studies [at AU] are inevitable," says Montes-Armenteros. "Students exposed to multiple disciplines are going to be able to make connections that would not be possible if they were concentrating on artistic study alone."