In the Community
AU Alumna Answers the Call to Lifesaving Work Maryam Tabrizi volunteers as first responder and Rescue Squad leader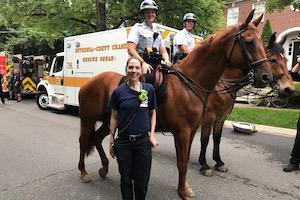 "Volunteer for the Experience of a Lifetime."
Maryam Tabrizi drove by the sign outside the Bethesda-Chevy Chase Rescue Squad (BCCRS) every day. For years, she thought it was something she would like to try. She was working in health promotion and disease prevention research, and she held an MS in health promotion management from American University, as well as a PhD in health policy and management from Johns Hopkins Bloomberg School of Public Health.
One day in 2016, Tabrizi decided she was ready. At the time, she was doing a lot of health research and evaluation, and she had drifted away from the hands-on care of people. She missed it. Also, she was interested in learning emergency medical skills, finding a way to get more involved in her community, and meeting other people with similar passions and interests.
The Bethesda-Chevy Chase Rescue Squad seemed like a perfect opportunity. The Squad provides emergency medical, fire, and rescue services to the Bethesda-Chevy Chase area and surrounding Maryland communities. It also provides emergency medical services to upper Northwest DC.
Tabrizi made the jump and joined the Squad's 150 professionally trained volunteers who respond to an average of more than twenty calls for help each day. Last year alone in 2019, the BCCRS responded to nearly 8,000 emergency calls.
"My time at the Rescue Squad is extremely rewarding because you know you are making a direct impact on the lives of people in need with each and every 911 call," Tabrizi says. "You are able to provide emergency medical care and a compassionate hand to someone on possibly one of their worst days and truly make a difference. The Rescue Squad's work is so important because we are there for our community to answer the call for help, 24 hours a day, 7 days a week, 365 days a year. Our emergency medical technicians, firefighter/EMTs and paramedics respond to all types of emergencies such as heart problems, strokes, vehicle crashes and fires, and the Squad works tirelessly to help keep our community healthy and safe."
Expanding Roles
Tabrizi started out as a volunteer EMT and began riding on the ambulance on basic life support calls once a week. Every Tuesday night she works a twelve-hour shift, from 7 p.m. until 7 a.m., sleeping at the Rescue Squad, eating dinner with the squad, training, and going out on calls.
In all, Tabrizi has taken on three roles at the Rescue Squad. She still works as a volunteer EMT. For the past seven months, however, she has also worked as a night crew officer, managing the crew, conducting training exercises, overseeing operations, and ensuring that the Squad has adequate staffing.
And since January, Tabrizi has sat on the board of directors overseeing the governance of the Rescue Squad, which includes everything from funding to strategic planning. She also serves on the BCCRS Recruitment Committee, the Public Relations Committee, and EMS Policy and Training Committee.
These are critical roles because the Rescue Squad is a non-profit 501(c)3, which receives some funding from the county but is "volunteer run and led" Tabrizi says. The majority of the operating budget comes from individual donors, foundations, businesses, and occasional state and federal grants.  
The Impact of COVID-19
For the past several months, Tabrizi says, they have seen the impacts of COVID-19 on the greater Maryland and DC area. For the past three months, the Squad's COVID-19 Task Force, composed of Rescue Squad members who have advanced education and experience in public health, emergency management, epidemiology, emergency medical care, and data analysis, has developed special training and protocols to identify COVID symptoms and safely provide treatment. They have also secured PPE (personal protective equipment) and implemented new cleaning and decontamination procedures for Squad units and for the station, while also implementing new protocols to monitor the health and well-being of volunteers and staff.
This spring, 911 calls to the station have increased for COVID-19 symptoms, and the Squad has implemented additional surge staffing to respond to the increase in demand for care. 911 calls come into the station for emergency issues such as trouble breathing, altered mental status, or chest pain. Patients with mild to moderate symptoms such as a cough or fever are encouraged to contact their physician or local health department first and get advice on what to do, Tabrizi says. Visiting the emergency room for general concerns or questions regarding COVID-19 may put patients and others at more risk.
Even though the increase in COVID-19 cases for Montgomery County and surrounding areas has seemed to level off in the short term, the Rescue Squad is prepared for any additional surges in cases as communities begin to reopen and social distancing guidelines are relaxed. The new normal is that COVID-19 isn't going away anytime soon, Tabrizi explains, and first responders will need to continue to be prepared to encounter potential COVID-19 patients through the use of proper PPE, identification and treatment of symptoms, and transport and coordination of care with local hospital emergency departments over the long term.
Making a Difference
In addition to her work at the Rescue Squad, Tabrizi volunteers for The Humane Society of the United States. As a senior district leader, she advocates for policy and legislation to better protect animals at the local, state, and federal levels.
"To me, these two things are both a passion and a calling," Tabrizi says. "Giving back to my community and being involved in an organization that saves lives makes a real difference."