Alumni
AU Alumnus Lonnie Bunch III Named 14th Secretary of Smithsonian First African American Smithsonian Secretary in 173-year history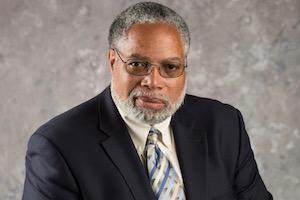 College of Arts and Sciences alumnus Lonnie G. Bunch III (BA history '74 and MA history '76) has been appointed the 14th Secretary of the Smithsonian Institution, effective June 16. In this position, he will lead the world's largest museum, education and research complex, comprising 19 museums, 21 libraries, the National Zoo, nine research facilities, and dozens of education and outreach programs.
Bunch's unanimous selection by the Smithsonian's Board of Regents makes him the first African American to serve in the role of Secretary in its 173-year history. Bunch, who has enjoyed a long and distinguished career at the Smithsonian and other cultural institutions, is currently the founding director of the Smithsonian's National Museum of African American History (NMAAHC). He says this role has prepared him well for the challenge of leading the Smithsonian into the future, and that he is looking forward to bringing fresh ideas and innovation to the Institution.
"It is important for the public to view the Smithsonian not simply as an addict of nostalgia, but as a cauldron of ideas of innovation and understanding that can be transformative for our country," he said at a news conference yesterday.
"To accomplish this, though, the Smithsonian must become a much more nimble entity," he added. "It must be an institution that is ripe with technology, an institution better suited to serve 21st century audiences, and an institution of research, of great collections, and of wonder that helps America understand itself and its world. This will ensure that the Smithsonian will always be what it once was. It will always ensure that the Smithsonian will be a place where scholarship, creativity, education and service come together for the greater good."
Founding Director, National Museum of African American History and Culture
Under Bunch's leadership, the Smithsonian's National Museum of African American History and Culture opened in September 2016 to sold-out crowds and critical acclaim. The New York Times wrote, "It's here at last, here at last. And it's more than just impressive. It's a data-packed, engrossing, mood-swinging must-see."
Bunch, who worked on the museum for over a decade before its opening, is widely credited for its breadth and ambition. "The history exhibit of the Smithsonian's new memorial of blackness is triumphant and crushing at once," wrote Vann R. Newkirk II for The Atlantic, "both a celebration of how far black people have come in an ongoing struggle for equality, and a reminder of the near impossibility of that struggle."
The museum is remarkable in many ways. The 400,000-square-foot building sits on a five-acre site—the last available spot on the National Mall—in the shadow of the Washington Monument. Former President Barack Obama led the dedication and the ribbon-cutting ceremony. In its first two and a half years, the museum has welcomed more than 5.5 million visitors through its doors and has built its permanent collection to include more than 40,000 artworks, historical objects, documents, and photographs. The museum continues to generate an unprecedented level of interest on a local, national, and global scale. Lines snake around the building, filled with timed entry pass holders and hopeful others who are waiting for a limited number of walk-up passes.
Bunch and the Building of a Museum
In 2005 Bunch was hired to be the founding director of the NMAAHC — and tasked with doing everything necessary to open the museum. Bunch seemed like the natural choice for this formidable job. At the time, he was the president of the Chicago Historical Society. He is also a nationally known educator, curator, and author who has written extensively about the African American experience in the United States.
During his 30-plus year career, he has held several positions at the Smithsonian Institution, including associate director for curatorial affairs at the Smithsonian's National Museum of American History (NMAH), where he led the team that developed the groundbreaking exhibition The American Presidency: A Glorious Burden. Prior to that, he served as the assistant director for curatorial affairs at NMAH, where he developed the Smithsonian's America exhibition, which explored the history, culture, and diversity of the United States. He also served as the curator of history and program manager for the California Afro-American Museum in Los Angeles.
When Bunch first started at the NMAAHC, he had no budget, no building, no confirmed building site, no staff—and no collections. In fact, the museum did not own one single object. Over the next decade, Bunch spearhead a daunting multitude of responsibilities and decisions. He  developed the museum's vision and mission, raised more than $500 million in public and private funding, oversaw building design and construction, managed staffing and publicity, and built key partnerships across the nation—all while collecting thousands of artifacts documenting several centuries of African American life, art, history, and culture.
"We found treasures for the collections you would never imagine," said Bunch. The museum opened with 11 inaugural exhibitions featuring more than 3,000 objects, photographs, and videos. Highlights included Nat Turner's Bible, a segregation-era Southern Railway car, Harriet Tubman's shawl (and 38 other items that once belonged to Tubman), Chuck Berry's red Cadillac, an airplane flown by Tuskegee airmen, and an extensive collection of art and photography documenting everyday Black life.
A College of Arts and Sciences Alumnus
Bunch, who received his undergraduate and graduate degrees in African American History at American University, credits his professors for creating a close-knit community and for challenging him to be the best historian he could be. He said he found a second home at AU, one that provided the kind of intellectual rigor and academic curiosity that stayed with him his entire life.
"I would not be in this position if it wasn't for AU," he said at a university presentation last spring. "I was very fortunate to work with people like [History Professor] Alan Kraut, people who both challenged and nurtured me. And what AU did for me was help bring a sense of order and structure to somebody who just loved history and didn't really know what you could do with it and how to use it."