Arts
AU and Arena Stage Team Up to Support Nation's Top New Theatre Artistic Directors Artistic directors from across the country gather at AU for leadership intensive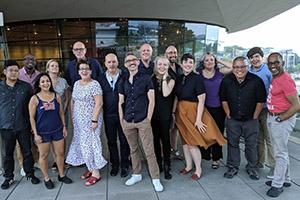 American University and Arena Stage at the Mead Center for American Theater hosted a first-of-its-kind Artistic Director Intensive Program last week. Ten new artistic directors of theaters from across the country participated in the three-day program, which was designed to support and advance their demanding work.
"American University's Arts Management Program is thrilled to be working with Arena Stage on this exciting new initiative," said AU Arts Management Program Director, Professor Ximena Varela. "Artistic directors work at the challenging intersection of artistic practice, management, and civic leadership, which presents unusual challenges and opportunities for artistic and managerial innovation. Their insights have provided all of us with new avenues to explore in supporting a robust and resilient future for the arts."
A Stronger Future for Theatre
"The face of the American regional theater is changing radically—more than 25 artistic director positions were open in the past 18 months in America. But who trains artistic directors? Amazingly, there have been very few intensive training programs for this central leadership role," says Arena Stage Artistic Director Molly Smith.
Smith explains that while there are many programs for theatre management positions, artistic directors are expected to "sink or swim" after they are hired. "Our hope in creating this pilot is to provide new artistic directors with a training opportunity that will ultimately build a stronger future for the whole theater movement as major evolution occurs," she says. "We believe this Artistic Director Intensive created in collaboration with a leading university is the first of its kind."
Three Days of Intensive Support and Training
The intensive was a focused effort to build community and to support peer-learning among professionals who are often quite alone in their work, says Andrew Taylor, Associate Professor in American University's Arts Management Program, and Chair of the Department of Performing Arts. "Artistic Directors at professional theaters are responsible for the voice and artistic vision of their organizations, even as a full array of administrative and institutional challenges pull their focus and their energy elsewhere," he explains.
The sessions allowed each artistic director to bring a current dilemma they were facing, and share it through a facilitated conversation with their peers. Participants not only left with a clearer view of the challenge, but also with new insights and approaches for their work back home. American University arts management faculty designed and facilitated the sessions with the use of a pioneering problem-solving methodology. From Arena Stage, Artistic Director Molly Smith, along with Executive Producer and President of the Corporation Edgar Dobie, and Deputy Artistic Director Seema Sueko, served as co-hosts and collaborators throughout.
The artistic directors and producing artistic directors included in the pilot were: Josh Costello (Aurora Theatre Company, Berkeley, CA); Rick Dildine (Alabama Shakespeare Festival, Montgomery, AL); Robert Barry Fleming (Actors Theatre of Louisville, Louisville, KY); Jamil Jude (True Colors Theatre, Atlanta, GA); Rod Kaats (Ordway Center for the Performing Arts, St. Paul, MN); Marya Sea Kaminski (Pittsburgh Public Theatre, Pittsburgh, PA); Flordelino Lagundino (Park Square Theatre, St. Paul, MN); Caitlin Lowans (Theatreworks Colorado Springs, Colorado Springs, CO); Paige Price (Philadelphia Theatre Company, Philadelphia, PA); and Eric Ting (California Shakespeare Theater, Orinda, CA).
A Natural Partnership
"This collaboration was built on a shared commitment by Arena Stage and American University's Arts Management Program to support, develop, and connect cultural leaders," said Taylor.
"AU has been home to one of the leading academic centers on arts and cultural management in the United States for more than four decades. Arena Stage is a flagship American theatre with almost seven decades of innovation and leadership dedicated to American voices and artists. Our combined effort on this initiative was exhilarating and transformative for us all."