Department Spotlight
AU and Audubon Work to Make Campus an Environmental Sanctuary University receives certification from Audubon Cooperative Sanctuary Program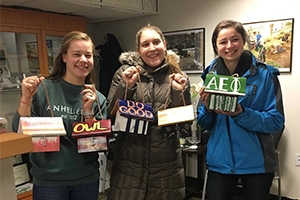 Thanks to a team of students in the environmental science program, American University recently received certification in Environmental Planning from the Audubon Cooperative Sanctuary Program (ACSP), marking a significant step forward in the university's commitment to pursuing environmental excellence. To reach certification, AU had to demonstrate a high degree of environmental quality in wildlife and habitat management, water conservation, and resource management.
"The Audubon Cooperative Sanctuary Program gives people an opportunity to do something good for the environment right where they live, work, and recreate," said Tara Donadio, director of Cooperative Sanctuary Programs for Audubon International. "We welcome American University's commitment to managing the property in an environmentally-sensitive manner."
Students and Staff, Working Together

Undergraduate students Jessica Balerna (BS environmental science '17), Sara Carpenter (BS environmental studies '17), and Alexis Maxwell (BS environmental studies '17) spearheaded the ACSP application as a project for their environmental science capstone course with Professor Kiho Kim. AU Facilities Management staff members Stephanie DeStefano and Mike Mastrota suggested the idea, and supported Balerna, Carpenter, and Maxwell throughout the project.
"The application process was exhausting," said Balerna. "[The Audubon Society] wanted to know everything about our resource management, our outreach and education, and more, and all of this required contacting a variety of departments on campus to get good estimates."
As a part of the application, Balerna, Carpenter, and Maxwell created a list of conservation projects that will be implemented over the next few months. These include completing a campus-wide tree inventory; significantly increasing the percentage of low-flow faucets on campus; and providing more AU Sustainability and Arboretum tours to students, faculty, and community members each semester.
Balerna noted that the project corresponded well with the capstone course goals, which included communicating scientific findings to a broad audience and appreciating the challenges of reducing one's environmental footprint. According to Balerna, "The project really prepared me for what managing a large property or organization sustainably requires."
"The project could not have been completed without Jessica, Sara, and Alexis," said Kim. "I think this says a lot: that AU—its students, staff, and faculty—is deeply committed to sustainability in all ways, including working to make our campus ecologically richer and more vibrant."