AU's Center for Israel Studies Receives $1.5 Million Gift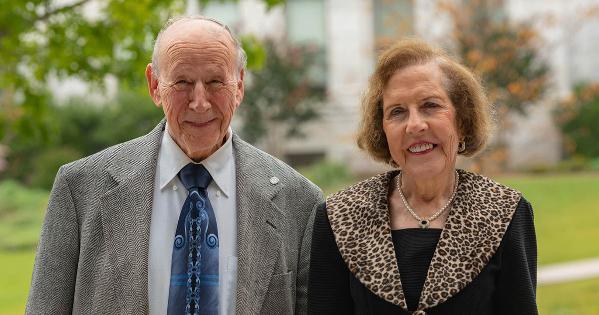 American University's Center for Israel Studies (CIS) has received a gift of $1.5 million from Helen and Daniel Sonenshine to endow a permanent faculty position devoted to Israel and Jewish Studies.
The Helen and Daniel Sonenshine Professorship Fund will enhance the Center's role as an international leader in research and education on Israel. The gift was made as part of American University's $500 million Change Can't Wait fundraising campaign, and reflects the university's focus on attracting world-class faculty and establishing endowed professorships and chairs who generate knowledge to advance society today and into the future.
"I am delighted about this generous gift, which will provide our students with the opportunity to further explore the special circumstances that led to the founding of the State of Israel, its diverse cultures, and the complex and ever-changing relations between Jews and Arabs in the region," says Michael Brenner, the Seymour and Lillian Abensohn Chair in Israel Studies and director of the Center for Israel Studies. "Helen and Daniel Sonenshine's gift is so precious to us because as academics they profoundly understand the significance of such a meaningful enlargement of our academic program. The envisioned position will help us in our efforts to fight antisemitism, explore the larger Jewish experience, and promote Israeli-Arab understanding through ongoing teaching and research."
Pioneer and Leader in Israeli Studies
Since its founding in 1998, AU's Center for Israel Studies has become an international leader in the study of Israel's society, politics, culture, and contributions to the world. The Center examines Israel in all its diversity, including its position within a changing Middle East, its self-definition as a Jewish state, its relationship to Jewish communities worldwide, and its Arab population.
The Sonenshines say they hope that their gift will contribute to the success of the Center for Israel Studies in its work to educate students about the history, culture, literature, and outstanding achievements of Israel, Israelis, and Israeli society. 
"As children of immigrants, including immigrants from what was then Mandatory Palestine, we absorbed much of this information firsthand," says Helen. "We also lived in Israel for a year, learned to speak Hebrew, learned much about Israeli history and culture, and had many Israeli friends. We believe it is especially important that American University students should be able to learn to appreciate Israel's role and participation in the greater world community." 
A Tradition of Giving Back
The Sonenshines have long and deep family ties to American University. Their daughter attended AU, Helen's sister is an AU alumna, and their son Ralph Sonenshine is currently an AU assistant professor in the Department of Economics. Two years ago, Helen and Daniel made a gift of $100,000 to sponsor the Center for Israel Studies' very first named lecture series. Its inaugural lecture by Harvard professor Derek Penslar took place virtually last year, and the second event is scheduled for spring.  
Daniel is an internationally known tick and tick-borne disease researcher who retired as professor emeritus at Old Dominion University after a 60-year career of award-winning teaching, researching, and mentoring. He won Virginia's Outstanding Scientist award in 1994, and he published a seminal two-volume text on the biology of ticks. Helen had a long career in economics and finance, as an assistant professor of economics at Tidewater Community College, an adjunct faculty member at Old Dominion University, a certified financial planner, and a stockbroker.  
In retirement, Helen and Daniel have been deeply involved in Virginia and DC Jewish communities. Helen served on the Advisory Board of Old Dominion University's Institute for Jewish Studies. At the Tidewater Jewish Foundation, she served as chair of the Investment Committee and the Community Relations Council. Her passion for music led her to serve on the board of the Virginia Symphony League.
Currently, in the DC area, Helen sings as a member of the choir of her synagogue and serves on the Music Committee of Temple Sinai DC. At AU, she serves on the Advisory Council for the Center for Israel Studies. Both Helen and Daniel play a leadership role in the Washington Chapter of the American Jewish Committee.
Helen and Daniel hope that their gift of the Helen and Daniel Sonenshine Professorship Fund will encourage others to support the Center's scholarship and programming. For more information and to join their efforts, please visit the Change Can't Wait website or email Assistant Dean of Development Elizabeth Harless at harless@american.edu.