Mathematics
AU Hosts International Data Science Research Conference Leaders in field gather for prestigious conference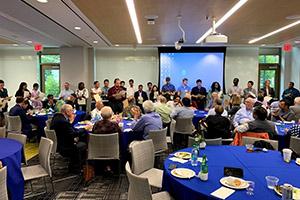 Michael Baron is the conference organizer and a professor in American University's Department of Mathematics and Statistics.
The 36th annual Quality and Productivity Research Conference (QPRC) was hosted this month by American University. This year's theme was Data and Science is a Winning Alliance, and the conference fittingly focused on the marriage of data and science, two fundamental sources of knowledge, and how they are utilizing each other to produce discoveries, improve quality, and increase productivity.
Distinguished scientists presented modern approaches to handling big, multidimensional, and unstructured data; cutting-edge modern methodologies in all aspects of data science; and the current progress made in such computer intensive fields as stream data mining, machine learning, anomaly detection, functional data analysis, image reconstruction, text analytics, and others.
In previous years, the conference has been hosted by major universities, labs, and corporations. They have included IBM, Boeing, General Electric, Los Alamos National Lab, and the Universities of California, Washington, Minnesota, and Wisconsin. In 2019, the prestigious role to host the QPRC was given to AU. It was an international event, attended by researchers from the United States, Canada, Brazil, Czech Republic, Germany, Qatar, Nepal, and China. Event sponsors included SAS, Amazon, Minitab, iManage, Trilobyte, StyleData, the National Science Foundation, and the National Institute of Statistical Science.
A Full Roster of Distinguished Attendees
The conference attracted a number of well-known scientists and distinguished professionals including:
American University Provost Daniel J. Myers, who kicked off the conference
Recent National Commissioner of Labor Statistics and the Head of the US Bureau of Labor Statistics Erica Groshen, who was unanimously voted by the US Senate to her post
Director of the National Institute of Statistical Science Jim Rosenberger
Assistant president of the US Census Bureau John Eltinge
Distinguished professors, editors of leading professional journals, authors of well-known and widely used books, fellows, and leaders of professional societies.
Over the 35 years of QPRC history, the conference has developed a unique traditions that AU followed, including a guest of honor, a short course, a technical tour and off-site reception, and student participation.
Conference Honoree
Barry Nussbaum was chosen to be our guest of honor. Nussbaum is a living legend: every time we fill our gas tanks, we should think of him because he is the reason we use unleaded gas.
In the 1970s, when Nussbaum worked at the US Environmental Protection Agency (EPA), he led the campaign to remove lead from gasoline. The project aimed to reduce pollution. To reduce the automobile emission, it was necessary to install catalytic converters, however, they would be destroyed by lead. Thus, the project started. Reducing lead in gas required modernized oil refineries, and as a result, gas prices started climbing. President Jimmy Carter was ready to stop the project.
At the same time, it was noticed that concentration of lead in paint might have been causing neurological disorders in children. Statistical analysis conducted by Nussbaum's group showed significant correlation between the concentration of lead and incidences of diseases. Moreover, Nussbaum showed that two minority groups were particularly vulnerable to lead. The graph that he sketched convinced Carter to continue the project until lead was completely phased out of gasoline.
Later, Nussbaum became the chief statistician of the EPA and then the 112th president of the American Statistical Association.
The Short Course
Traditionally, the conference is preceded by a one-day course on a popular and modern topic. This year, Choudur Lakshminarayan from Teradata Corp. and the University of Texas at Austin presented "Big data analytics: dealing with structured, semi-structured, and unstructured data."
The room was packed for the entire day with both students and renowned researchers—attendance was the largest ever during the 35-year history of QPRC.
Technical Tour and Off-Site Reception
Every Quality and Productivity Research Conference includes a tour focused on technological advances and concluded with an off-site reception. This year, we held the technical tour at the History of Inventions exhibition at the Smithsonian's National Museum of American History.
Three buses with conference delegates, escorted by professional tour guides, traveled through the most beautiful sites of Washington, DC, from American University to the National Mall and then to Georgetown, where we took a memorable Potomac River cruise on the Boomerang Yacht.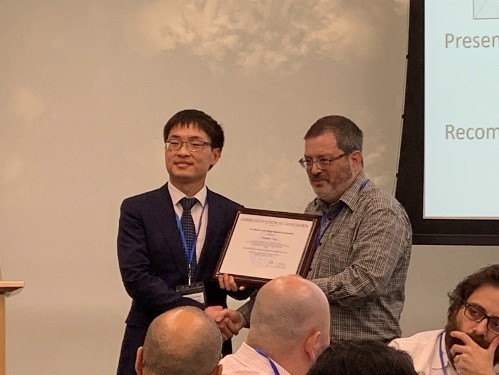 Student Participants
This year, more than 50 students attended the conference and the short course. Many of them presented posters and contributed papers. Some gave invited talks. A generous grant from the National Science Foundation supported the student participants from AU, Morgan State University, Clark Atlanta University, Morehouse College, the University of Texas at San Antonio, Howard University, the University of Wisconsin, Virginia Tech, Georgetown University, Catholic University, the University of Connecticut, and other schools.
At the banquet, supported students received Student Travel Scholarship certificates in a touching award ceremony. QPRC has never before been able to support such a large number of students; they barely fit on the stage for the group photo! Two students were honored as recipients of prestigious Mary G. and Joseph Natrella Scholarships: Changyue Song from the University of Wisconsin-Madison and Jiangeng Huang from Virginia Tech.
The conference was a big success. Conference delegates noted AU's very efficient modern facility. Having such an impressive conference space, with the nice collaborative work of our Conference and Guest Services, our catering and facilities management, and great research faculty at AU, shows us that American University is a natural host for many professional conferences of this caliber!