Arts
AU Presents Extraordinary Premiere Musical Performance AU orchestra, chorus, chamber singers, guests soloists, and children's chorus will perform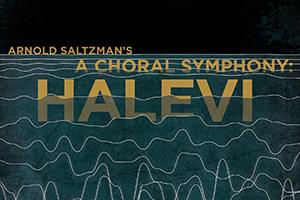 In one of American University's most ambitious musical performances, more than 200 artists will come together on stage at National Presbyterian Church on February 24 to perform the North American premiere of Arnold Saltzman's A Choral Symphony: Halevi. The combined forces of the AU Symphony Orchestra, Chorus, and Chamber Singers will join the Strathmore Children's Chorus and guest soloists mezzo-soprano Janice Meyerson and baritone Rob McGinness.  
The performance is made possible by a generous gift from the Eugene M. Lang Foundation in celebration of the life of its founder, Eugene M. Lang. Tickets are $5 to $15 and available online through Eventbrite.
A Choral Symphony: Halevi is exciting on many fronts, says Matthew Brown, director of the AU Orchestra. "Halevi is a premiere performance of a major new piece by a living, local composer, combining multiple ensembles at one of the most venerated performance spaces in our nation's capital," says Brown. "This is classical music at its best."
Brown will be conducting the performance, along with Daniel Abraham, director of AU Choral Activities, who will conduct an opening work by Franz Joseph Haydn. "It is exciting to have this support from the Eugene M. Lang Foundation and to honor Rabbi Saltzman. He has been an important figure in the DC music community for more than three decades," says Abraham. "The music program at American University is wide-ranging in its outlook, and we are very pleased to bring Rabbi Saltzman's work before the public."
The Making of a Symphony
A Choral Symphony: Halevi is composer Arnold Saltzman's symphonic setting of texts written by a twelfth-century Hebrew poet named Judah Halevi. Towards the end of Halevi's life, he decided to leave Spain and make an epic, solo journey to Jerusalem and the Holy Land, Palestine. Halevi detailed his journey in writing. A Choral Symphony: Halevi is Saltzman's musical telling of Halevi's epic journey.
Saltzman has been composing and performing music for decades. As a performer he has appeared at the Kennedy Center Concert Hall and Opera House, the National Cathedral, and Strathmore Performing Arts Center. But he is best known as one of the most beloved Jewish spiritual leaders in the Washington area. For 24 years, Saltzman was the cantor at Adas Israel Congregation, one of the largest synagogues in Washington, DC. But in 2002 he was diagnosed with spasmodic dysphonia. "A virus had begun the end of my singing," he says. He decided to return to Rabbinic School, and has subsequently served as the rabbi of three congregations.
Around this time, the Hebrew scholar and translator of Halevi's poetry, Raymond Schiendlin, asked Saltzman to examine the texts with the idea of creating a song cycle for his wife, mezzo-soprano Janice Meyerson. Saltzman had already composed three symphonies and was interested in the project.
"After finishing an outline, I discussed the inner meaning of the words, looking for ways of having multiple voices within the poet's remarkable work," he says. "I was unable to complete the work quickly as my attention turned to my voice, medical treatments, and rabbinic studies and obligations. But two years ago, I became rabbi emeritus, and with the encouragement of my wife Carol Nissenson, I completed the work."
In a short time, a European premiere was accomplished at an international music festival in Italy, and received enthusiastically, says Saltzman. "I was told that it was the most successful premiere of a new work in the 15-year history of the festival."
Though A Choral Symphony: Halevi is Saltzman's fourth symphony, it presented some unique challenges. "They included creating the sense of Halevi's journey at sea, the healing and spiritual aspects of such a pilgrimage, and the universal expression that we are not alone on our journey in life," Saltzman said. "This is a work that can be seen as a prayer to the God of the Cosmos for all humanity. It is in contrast to religious extremism. The idea that moderate forms of religious expression must be strengthened are central to Halevi's poems and in this symphonic work of music."
Gift from the Eugene M. Lang Foundation
"This exciting performance wouldn't be possible without the generous gift from the Eugene M. Lang Foundation," said Abraham. Lang, who passed away in 2017, was a pioneering businessman, entrepreneur, and philanthropist who deeply loved the arts and believed that education is the key to meeting society's most intractable challenges.
He initiated education, health, and arts enterprises that are recognized for their ingenuity and transformational accomplishments, including the national "I Have A Dream" program, which provides sustained personalized guidance and support to many thousands of underserved children throughout their K-12 years. The recipient of many honors, Lang was designated by President George H.W. Bush as a "Point of Light" and he was deeply touched to receive the nation's highest civilian award, the Presidential Medal of Freedom, from President Bill Clinton.
Pulling It All Together
Last year, Saltzman approached Brown and asked if the AU Orchestra and Chorus would be interested in performing A Choral Symphony: Halevi. After the two men spent some time looking over the score, Brown gave Saltzman an enthusiastic yes.
The National Presbyterian Church was chosen as the performance venue for its acoustic beauty and size. The performers will include approximately 60 orchestra members, 110 members of two choirs, 2 soloists, and a children's choir of 30.
Last semester, the ensembles began getting familiar with the work, and rehearsals have already begun in preparation for the concert on February 24.
The concert is exciting for the performers, the audience, the university, and the greater DC community, says Abraham. "Every hearing of a new work represents a furthering of our art…it's at the core of what our university stands for, and this performance provides our students an opportunity to explore yet another mode of contributing to the welfare of our world."