Arts
Audience, Students Have Big Roles in Skin of Our Teeth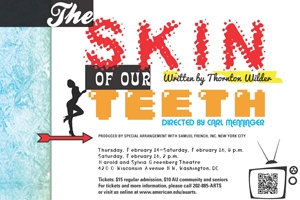 AU's production of Thornton Wilder's The Skin of Our Teeth, directed by Professor Carl Menninger, will feature not only the classic play but a high degree of audience engagement and outreach.
The play will run Feb. 14–16 at the Harold and Sylvia Greenberg Theatre.
According to the production's dramaturge, theatre arts and print journalism double major Nicole Cusik, it follows an American family, the Antrobus family, and their survival in the face of the ice age, family strife, the great flood, and war. The story highlights the strength and endurance of family as it withstands life's extraordinary challenges. However, Cusik is quick to note that the play is actually a comedy.
"In Act 1, they are in a house in suburban New Jersey in the 1950s, but it's the day the wheel was invented and their pets are a dinosaur and a mammoth," explains Menninger. "In Act 2, they are in Atlantic City, and, ironically enough, the great flood from a hurricane destroys Atlantic City. It is strangely timed. And in the third act, the family deals with the devastation of a war. It is anachronistic, and the characters don't age, but we as an audience jump in time. So you just have to buy into this world as an audience member."
Two factors led Menninger to take on The Skin of Our Teeth. First, American University will be joining Georgetown and Howard universities to perform a night of classic Thornton Wilder one-act plays at Ford's Theatre on February 11, at 7:30 p.m., in conjunction with Ford's 75th anniversary production of Our Town. The other factor was the opportunity to study and address the image of the modern family.
"[The Ford's Theatre performance] is an incredible opportunity for our students to be able to perform and for AU to be represented in this nationally acclaimed venue," says Menninger. "I also thought, 'OK, we are doing this play, and what does it mean and why are we doing it?'"
"One of the things that Nicole and I worked on is the idea that we get our image and definition of family from television. So Act 1 is a '50s sitcom, with a laugh track and everything. Act 2 is an '80s sitcom. And Act 3, which is not a television show, poses the questions of what happens when there is no more television, and how do we challenge ourselves to define family in a way that is not spoon-fed to us. Just like any good arts endeavor, we came at it thinking about what we wanted to say, as opposed to just doing another play. Wilder says it is about how humanity survives, and what we've done is narrow the focus more to how a family survives."
The production has also taken on a high degree of outreach and engagement. Menninger approached Erin Hannigan, a musical theatre major, for the task of creating and executing the outreach for the play.
"Carl initially approached me with the idea that this is a show about families who survive all kinds of adversity because they have that family unit," says Hannigan. "So we decided to think about how the family unit has changed over the years. Thornton Wilder's family was a Caucasian family with a mom, dad, and the perfect children, but that is not the reality of the American family. So we are reaching out to organizations like the Latin American Youth Center to see what a modern family looks like, first of all, and what are the challenges that those families face."
Hannigan continues, "The goal is to bring the message of the show to right now. Instead of thinking of a family at some point in time who experienced adversity, this says that actual families do experience it today, and it honors those struggles and those families.
Another component of the outreach program will include Kids@Katzen, the AU Museum's program for children. On February 2, the cast performed a scene for the children. "Based on that scene," explains Hannigan, "the kids created artwork tying the theme of family and family struggles. We will display the artwork in the lobby during the shows."
Menninger adds, "We had these kids draw a picture of their family answering the questions, 'What does your family look like? What is the best thing about your family?'"
An important feature of this production is students taking on roles vital to the success of the production. Cusik, as the dramaturge, has been entrusted with the ever-important research that goes into creating an accurate portrayal of the play's culture and setting.
"I want to be a theatre critic; that's what I am hoping to combine my majors to do," says Cusik, the theatre arts and print journalism double major. "This is my first time doing the dramaturgy work on a show here, and I really enjoyed the research aspect. I was able to bring the cast a lot of information about Thornton Wilder and things he said in interviews about the show when it first came out, as well as some cultural references so they could wrap their minds around the '50s and '80s sitcoms. It was interesting to try something new."
Hannigan also tackled a rather large job. Theatre organizations have full-time staff members who coordinate audience engagement and outreach programs for their production, and Hannigan was able to gain valuable experience doing just that. "I have fallen into the role of the planner," she says. "I work with AU Players as artistic director, and I've had a couple of internships that are more administration based. It has been a little frightening at times, but it has been really exciting to take charge and be in control of it."
For more information about the Ford's Theatre's "Wilder's Classic One Acts" event, visit the theatre's site.