Literature
AU Professor Goes Back to School for MFA in Creative Writing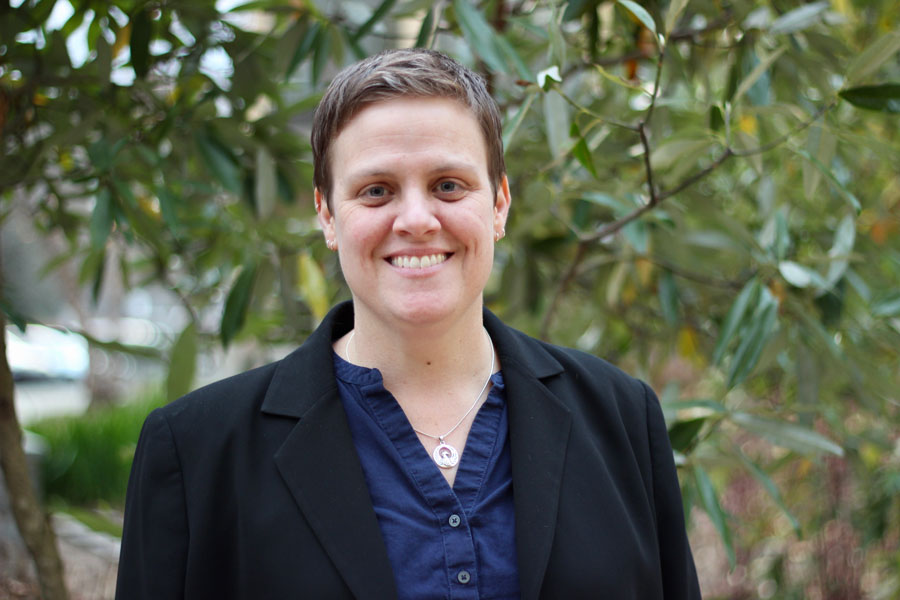 AU's Jane Palmer has been selected for the 2022 cohort of the We Need Diverse Books mentorship program. She'll be receiving mentorship from children's book author Kyle Lukoff for her picture book titled My Brother is a Tree.
Palmer was chosen as one of just 17 mentees from hundreds of applicants this year. The program is sponsored by We Need Diverse Books, which advocates for literature that reflects the lives of all young people. The organization has awarded more than 85 mentorships, and recipients have gone on to publish or contract more than 70 books for children and teens.
Palmer is a first-semester Creative Writing MFA student. She is also a former social worker, activist for children's and women's rights, and associate professor in AU's School of Public Affairs' Department of Justice, Law & Criminology.
Professor Stephanie Grant, director of AU's Creative Writing MFA Program, says that it's not unusual for faculty members — and people from all sorts of fields — to apply to the MFA program. "It attracts students who have decided to prioritize their creative writing at very different times in their lives," she explains.
In the past two years, in addition to Jane (an amazing activist/scholar), we've accepted an MD, a retired entrepreneur, two radio producers from WAMU, and a lawyer who worked for decades at the World Bank.
"My Brother Is a Tree"
Palmer's book, which is autobiographical, explores loss and healing. Palmer's twins, Gus and Max, were born premature in July 2017 after a high-risk and complicated pregnancy. "They were both in the NICU, and we lost Max when he was one month old after he contracted a gastrointestinal disease called NEC," she explains. "We also thought we were going to lose Gus to the same disease in the aftermath of Max's death, which was harrowing. But we got to take Gus home with us after 53 days in the NICU."
After Max passed away, Palmer's friends bought a tree through Casey Trees, which was planted in a small ceremony with her family and close friends, just about a mile from AU's campus. The tree has become central in the family's journey to keep Max's presence in their lives, and it became the inspiration for My Brother is a Tree.
Max's tree
"We worked with a twin loss therapist when Gus was an infant, and she recommended that we tell Gus the story about Max regularly," Palmer says. "This is where the idea for the picture book came from. As we have raised Gus, we have been very intentional about our inclusion of Max into our lives, and he loves to talk about and tell other people about his brother Max."
Palmer also wanted to write this book because she had trouble finding picture books about twin loss. And she wanted to write a book that honors the diversity of her family (with two moms) and the joy they've found in having the tree as a place of solace.
The Hard Parts of Life
Kyle Lukoff, Palmer's mentor, is the author of seven children's books including two Stonewall award-winners and a Newbery honor. He was drawn to Palmer's writing and themes. "Jane's work stood out to me because of the bold, honest way she goes about the hard parts of life, and her dedication to including all kinds of kids and families in those experiences," he says.
For her part, Palmer describes herself as a "social scientist/academic" who is looking forward to Lukoff's guidance as she learns the art of picture book writing. "I've always considered myself a writer," she explains. "I was the editor of the literary magazine at my high school and in the poetry club."
The time and space of the pandemic has helped me rediscover my love for creative writing. I'm so excited to further develop my skills in AU's amazing MFA program.
As a social worker, Palmer worked with children whose lives were affected by violence and other inequities. She wants to write picture books that help kids deal with tough issues in a meaningful way — and she writes to make sure that all different types of kids can "see" themselves in stories.
"Representation is so important for kids," Palmer says. "I have amassed a collection of children's books with positive representations related to race, gender identity, LGBT families, etc., but it is still such a small portion of available books. I remember how alone I felt when I didn't see kids like me in the books I devoured as a kid. The conversations I've had with my four-year-old after reading some of these books have been really lovely."
Kids are brilliant! I believe that books (and kids) have the power to change the world.