In the Community
AU Providing Emergency Resources to DC Teachers and Children Health Studies Program working for healthy meals and health education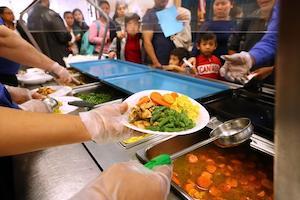 As schools across the District of Columbia face long and uncertain closures due to the COVID-19 pandemic, DC families have serious concerns: Will children have enough food to eat? And how will children learn?
According to the District of Columbia Public Schools (DCPS), three-fourths of its nearly 50,000 students qualify for either free or reduced-price meals at school. When the schools are closed, these children have limited access to nutritious meals, and the long-term consequences can have significant impacts on their health.
Therefore, to ensure that every student has enough healthy food while the schools are closed, DCPS has opened more than 40 sites across the district for students and their families to pick up free meals. At the same time, DCPS, along with all public schools across the nation, is also struggling with how to structure remote student instruction and learning for the duration of the crisis.
American University's Department of Health Studies is playing a part in this process, by looking ahead to find innovative ways of providing nutrition services and education to DC teachers and their students. It is already offering online lesson plans in nutrition education and online professional development videos for teachers.
"A long-standing ideal of AU is to serve the community, especially during a crisis of this nature," says Stacey Snelling, chair of AU's Department of Health Studies and director of the Healthy Schools, Healthy Communities Lab. "Our work is more important than ever now, to promote food access to address hunger and to assist with learning while students are at home."
Partners in Health
This is all part of American University's five-year United States Department of Agriculture (USDA) - National Institute of Food and Agriculture (NIFA) grant, called Healthy Schoolhouse 2.0, with the goal of improving health literacy and preventing obesity in DC elementary school students. AU is currently in year three of Healthy Schoolhouse 2.0.
As part of the grant, American University's Healthy Schools, Healthy Communities Lab is partnering on health education with four Ward 7 and 8 elementary schools. At these schools, 100 percent of students are economically disadvantaged and eligible for free and reduced school meals at breakfast and lunch. In addition, their food options at home may be limited, which puts them at increased risk for obesity and other health problems. Providing healthy school meals plus nutrition education for these children is critical for their health and well-being.
The Healthy Schoolhouse 2.0 team has designed and implemented a professional development program for teachers that will educate them on integrating nutrition concepts into their curriculum. The ultimate goal: to engage teachers as agents of change by creating a culture of health within their classrooms. 
The learning has also extended beyond classroom walls, says Caitlin Lavigne, American University's research coordinator for the Healthy Schools, Healthy Communities Lab. "Our partner, nonprofit Martha's Table, has been hosting monthly food markets at elementary schools, to provide students with free produce. We attend the markets and offer educational nutrition lessons and activities for students," she explains. "The kids seem very excited about it, and they have been very popular."
Innovation During the Crisis
During the current COVID-19 public health crisis, the Healthy Schools, Healthy Communities team is working to continue its health education efforts in innovative ways, through online learning for teachers and by providing educational materials for distance learning packets for students. "Our team is working to brainstorm creative ways to keep teachers engaged throughout this time of school closures," says Lavigne. "We hope that when teachers and students are spending all this time at home, will have some extra room in their schedules for health lessons."
The team's partners are also stepping up. During the school closures, Martha's Table will provide bagged groceries at rotating local high and middle schools throughout wards 7 and 8. Another nonprofit grant partner, DC Central Kitchen, has launched 11 mobile feeding sites throughout the city to supply takeaway breakfast and lunches. During the time of school closures, it is also providing healthy takeaway lunches for students in wards 7 and 8.
With so many changes to children's daily routine during this crisis, keeping students healthy and safe remains the primary focus. The Healthy Schools, Healthy Communities team hopes to support teachers and students throughout this time with easily accessible nutrition lessons that are available at their fingertips.