On Campus
AU's Premed Program Hosts Stop the Bleed Workshop Children's National Medical Center teaches students how to save a life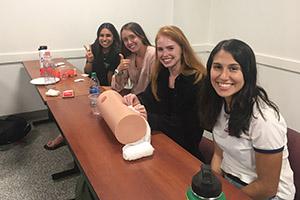 The only thing more tragic than a death by bleeding is a death that could have been prevented. This powerful message is why nearly one million people in more than 100 countries have taken Stop the Bleed workshops, which provide basic medical training to respond to life-threatening bleeding.
American University's Premedical Program and the AU chapter of Phi Delta Epsilon have joined this movement by hosting their first Stop the Bleed workshop. The event was run by a nurse/EMT from Children's National Medical Center, who taught the students how to prevent death by blood loss through the use of tourniquets and other methods.
The idea for the workshop came as a suggestion from students, said Lynne Arneson, director of American University's Premedical Program and adjunct Health Studies lecturer. "I think this program was such a success both because it was student-driven, and because it helps premed students move from the theoretical understanding of medicine to its practical application."
The participants agreed. "I believe that all of us in the premed program have passion for medicine and helping people in difficult situations," said Shihui Huang (BA psychology '21). "But this workshop encourages us to take a step forward from being a passive learner of medicine to being an empowered responder in daily life."
No Better Time
BleedingControl.org, which sponsors the workshops, was founded by the American College of Surgeons and the Hartford Consensus with the goal of preparing people for accidents, emergencies, and even acts of violence.
"Massive bleeding from any cause, but particularly from an active shooter or explosive event where a response is delayed can result in death. Similar to how the general public learns and performs CPR, the public must learn proper bleeding control techniques, including how to use their hands, dressings, and tourniquets," says the group. "Victims can quickly die from uncontrolled bleeding, within five to 10 minutes. However, anyone at the scene can act as immediate responder and save lives if they know what to do."
It is a message that resonates with premed students. "It is not only that the frequency of mass shootings and other mass casualties seem to escalate, but most importantly, there is no better time than now to learn how to save a life from preventable death because we want to be ready to and capable of helping if anything ever happens, says Clare Hernandez (SIS '22).
Kelsey Miskimins (BA justice and law '23) agrees. "I thought that it was really important information that everyone should be made aware of, especially in light of recent events and the world we live in today," she said. "The presentation itself was really engaging and entertaining too, which helped me to really pay attention and learn the information and skills. I left the class feeling more confident that I know the necessary steps to take in an emergency situation."
How To Save A Life
In the workshop, the students learned how to identify, act, and stop life-threatening bleeding. They also learned often-overlooked details that critically affect survival.
"Without the training, I did not know I should take off the victim's clothes to better identify hidden bleeding sites, and that different bleeding sites might need different techniques to effectively stop the bleed," said one student. "As college students, I believe we can all figure out what to do if given enough time. But the only key to save someone from bleeding to death is time."
The students said they would like to host this life-saving training periodically, said Arneson, with the goal of ultimately extending it to more students and faculty members—not just premed—and someday offering it to all future freshmen.