Science
AU Student Wins Sony Music Rock and Code Hackathon Award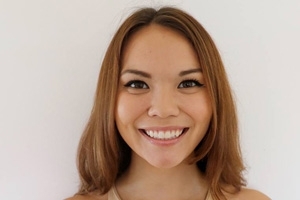 Last month Makaila Akahoshi, (BS computer science and audio technology '17) spent 36 hours in New York City at the Sony Music Rock and Code Hackathon, developing an app based on music discovery. 
All her efforts paid off—her app placed second in the individual category. 
"I was surprised that I won, especially since I was one of the youngest competitors there," said Akahoshi, who is working on completing the app for her senior capstone next spring. "Most of the participants had already graduated from college, and some were even working on their master's degrees. Everything felt like a dream."
The Sony Music Rock and Code Hackathon
Sony Music Entertainment, one of the largest music labels in the world, hosts the Sony Music Rock and Code Hackathon annually. It is a computing competition that draws start-ups, developers, and music professionals from across the US to spend three days conceptualizing and developing innovative projects, all music related. 
After the competitors spend hours perfecting their projects, they pitch them to Sony Music's senior executives, who provide feedback and insight about the music industry. Winners are judged on the following: technical implementation, coolness, presentation, and innovation.
The Winning App
Akahoshi went into the competition with a vision of an app with a simplified and user-friendly process of finding music to the user's taste. Her app eliminates the hassle of having to listen to an entire song before moving on to the next one by allowing users to listen to a preview of a song before swiping left or right to indicate whether they like it or not. 
Akahoshi saw the Sony Music Rock and Code Hackathon as an opportunity to apply what she is learning at AU. "I was looking forward to this event. Not only was it about coding, but it also focused on music. As a double major in computer science and audio technology, I thought it would be a perfect way to combine both of my interests."