Science
AU Professors and Student Restore Planetarium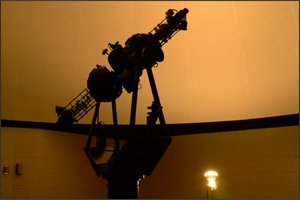 In the summer of 2012, AU physics and astronomy professor Jessica Uscinski received a unique offer: to restore a planetarium and observatory that had fallen into disrepair at Howard University. Uscinski accepted the offer and applied for funding through the NASA District of Columbia Space Grant, bringing in AU undergraduate student AJ DiGregorio to assist on the project. Adjunct faculty member from AU David Friedlander-Holm was also included on the grant.
The planetarium they restored is a system originally built in the 1970s. "You'd think a system like that is way out of date, but that really was the golden age for planetariums," says DiGregorio. "It's a beautiful machine, and it produces a beautiful star field. When it was constructed, you could only get the fixed stars and the moon, which was just fine in the 1970s. It needed a little updating for current purposes, though."
Uscinski and DiGregorio spent their initial research visiting planetariums and planetarium shows across the region. Because neither of them had worked on a planetarium before, they made an effort to seek out professionals who were familiar with the construction of planetarium systems. Luckily for them, many of the members of the planetarium community know one another and have worked on each other's planetariums in the past, making them valuable sources for information when it came to working on the Howard system.
Most planetariums today have digital systems, which run by themselves and can play planetarium shows and movies. Howard University's was the only one Uscinski and DiGregorio saw in the area that was an analog system, with a control panel that featured knobs for every action that could be performed. "You can play around with an analog system. You can do what you want with the stars. Professor Demetrius Venable from Howard, who was instrumental to the process, told us 'it's your own little universe,'" DiGregorio says.
When they had restored a majority of the analog projector, they were able to focus on the trickier aspects of setting up a digital projector, a high resolution projector that hooks up to a system of mirrors that project onto the entire dome. The problem was, however, that dome video and non-dome video have to be filmed differently. Rather than a flat screen, a dome is curved, so creating and rendering video content requires a 180-degree field of view.
The process of setting up the two projectors together took hours, but it was necessary for the synthesis of digital and analog technology that Uscinski and DiGregorio wanted to achieve. By the end of the summer, they had developed, from scratch, a planetarium show that incorporated both systems successfully and put it on display at a showcase event for elementary and high school teachers. "Seeing what the moon or Saturn look like through a telescope is a really cool thing to be able to do," DiGregorio says. "D.C. is a great place to teach kids about astronomy, because they can't go outside and see billions of stars the way you can in a rural area. But if you bring them to an observatory or a planetarium, you can show kids who've lived in a city most or all of their lives how accessible the night sky is."
Now that the system is running, Uscinski and DiGregorio hope to have the project change hands from Howard University and American University faculty to student members of the Society of Physics Students from both schools. Their ultimate goal goes back to the discussion that first lead Uscinski to the restoration project. "We want to increase the visibility of physics in the area and really open it up to members of the community," Uscinski says. "We want a lot of students to benefit from it at all levels. And now we're able to kick that into gear. Astronomy is really the best hook to get people interested in science. Anybody can look up at the sky and wonder. That's our hope here, to bring that wonder in to the community."