Arts
Audio Technology Master's Program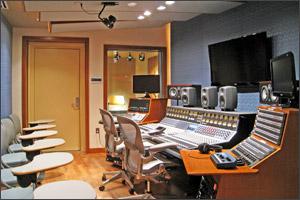 In 1978, American University launched one of the first academic programs in audio technology in the country. Originating in AU's physics department, then moving to the Department of Performing Arts, the Audio Technology Program has evolved over its 34 years at the university and is set to kick off its brand new, innovative master's degree in audio technology this fall. AU's program will offer both a master of arts in audio technology as well as a graduate certificate in audio production. 
There are currently less than ten graduate programs in the country that offer the type of programming the AU master's program is set to provide. According to Professor Paul Oehlers, the audio technology program director, "many of the other programs are not nearly as focused on production. Students may learn about the science of acoustics and the technology behind it, but there isn't a lot of recording and hands-on work."
The audio technology facilities at AU lend themselves entirely to this approach. The program's brand new, state-of-the-art recording studios opened in January 2011 and feature a production recording lab, a mixing studio that can also be used for overdubbing and recording, and a digital lab for post-production that allows students to create audio for film and to earn Pro Tools certifications. The program has expanded in recent years, growing from just 35 undergraduates in 2004 to nearly 100 in 2011.

"Our program allows students to record and mix in the studio and work with professionals," says Oehlers. "They get to do advanced, hands-on projects from the minute they get here."
The master's program expects to attract a diverse group of students with a wide variety of backgrounds and experiences. "Audio technology is a lot like computer science was in the 70s," says Oehlers. "You have some people who come with a formal degree in it and others who do not and come from other fields. Because there haven't been a lot of academic programs in audio technology before, there are a lot of people who have gotten a foundation in the subject through non-academic means."
Oehlers says the presence of this graduate audio technology program will ultimately strengthen the department's long-time undergraduate program. "A lot of people think that as a field grows, you have to add more to your curriculum," he says. "Actually, you have to add less. As the discipline grows, you can focus less on a set of skills and instead give students tools that they can move around, change, and specialize as the discipline changes."

While Oehlers says that in recent years the program has been adding courses to its core curriculum, he hopes the presence of the master's degree will allow for more specialty courses. "As the students learn what interests them, they will be able to pursue these things more specifically."  The program hopes to create specialty areas in topics such as sound for film, audio-visual design, and electronic music production. "When students come in with passions and ideas about what they want to do in the field, we want to give them all of the basic tools, but we also want to allow them to pursue this passion."
In recent years the program has also worked to develop key programs outside of the studio. An increasing number of students are interested in software programming for audio software, and the program has worked to teach classes in programming as well as other areas that enhance the recording world in its newly founded Music Computation Lab. "Our recording facilities here are amazing," says Oehlers. "But not everything we do can or has to be in the studios. Because of this, we are able to expand in a way that won't put a burden on the recording facilities."
Washington, DC, is an ideal place for advanced audio technology students to hone their craft because of the access they will have to internships and hands-on experiences outside of AU. Former students have interned at places like SiriusXM Satellite Radio, the 9:30 Club, and other music venues in the greater Washington area, as well as WAMU, the AU-owned and operated National Public Radio station, which has expressed a desire to become more directly involved with the program.
"The thing I like about our program is that it is about exploration in the field," says Oehlers. "We're not about just teaching students how to make hit records in a specific genre as is the case in many other programs. We teach the basic techniques and then allow students to combine these techniques together. We want to help students to find their own voice."
Applications are now being accepted for the audio technology master's and audio production certificate though the College admissions page. Additional information about the programs can be found on the audio technology master's and audio production certificate webpages.