Research
Archaeologist Becca Peixotto Talks about Legendary Homo Naledi Expedition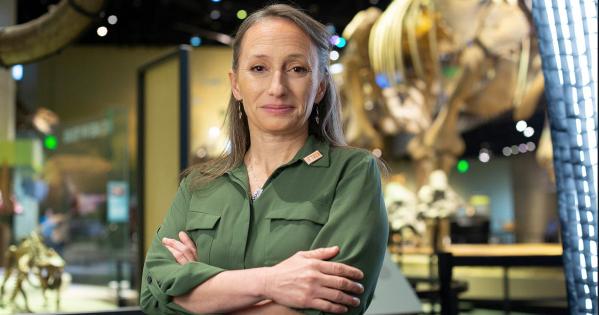 For Becca Peixotto, it all started out with a Facebook ad seeking "specialized cavers and spelunkers with excellent archaeological, palaeontological, and excavation skills."
At the time, Peixotto was an AU anthropology PhD student and graduate of AU's Public Anthropology master's program. She had all the required skills and expertise, so she answered the ad — and became part of the team that made one of the biggest archaeological discoveries in recent years: a new species of human relative named Homo naledi. The excavation in Johannesburg's Rising Star Cave was heralded across the world and has changed the way scientists think about human origins.
More recently, Peixotto once again contributed to a major scientific finding involving Homo naledi. This time, she was part of an international team of researchers that revealed the first partial skull of a Homo naledi child found in the remote depths of the Rising Star cave — a child who died almost 250,000 years ago.
We asked Pexiotto about her path from American University to the Rising Star Cave, the implications of her important scientific discoveries, what's next in her career, and her advice to budding archaeologists.
During your time at AU, you worked with Professor Dan Sayers to excavate historic African American settlements in the Great Dismal Swamp in Virginia and North Carolina. Can you describe how this work prepared you for your future career — and how you originally got the opportunity to become part of the Rising Star Cave expedition?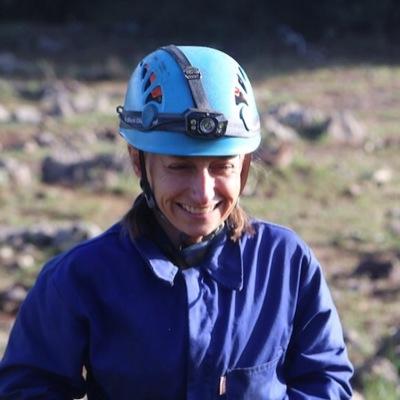 I completed my MA in Public Anthropology with an archaeology focus at AU in spring 2013 and was taking a "gap year" to apply to PhD programs. In late October, an AU colleague sent me a post she saw on Facebook looking for paleoanthropologists or archaeologists with caving and climbing experience. My previous career was in outdoor education, so I had professional experience in climbing, caving, and other similar activities.
I applied and soon found myself on a plane to South Africa!  
Working with Professor Dan Sayers in the Great Dismal Swamp was great preparation because I learned to do detailed excavations in really challenging environmental conditions.
To maintain focus on the task at hand while also paying attention to the safety of yourself and your teammates is very important when working in a cave setting. Professor Sayers also modelled how excavations should be driven by meaningful questions and evidence rather than just for the sake of digging. That foundation helped me collaborate with the Rising Star team when we had decisions to make about where to excavate next.
Can you share a little about what you've been doing since then, and how you joined this latest excavation?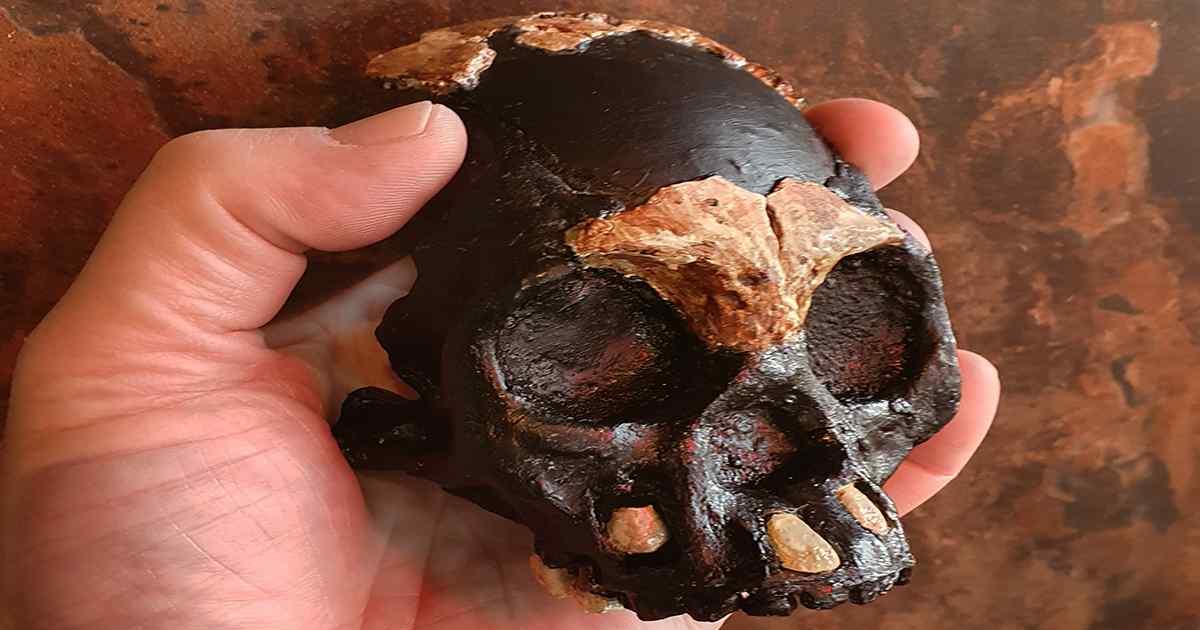 Partial skull of Leti. University of the Witwatersrand.
The work in the Rising Star Cave did not stop after the first expedition in November 2013. We kept going back to the cave for more exploration and excavation right up to the start of the pandemic, and my South African colleagues have even managed a little work there since March 2020.
We found the "Leti" fossils in 2017 while I was Archaeologist in Residence at AU. I am grateful that the faculty in the Anthropology Department supported my continued involvement with the Rising Star Expeditions throughout my PhD and beyond, even though it is very different from my dissertation topic.
When my term at AU ended, I joined the Perot Museum of Nature and Science in Dallas, Texas, where I curated the first exhibition of South African hominin fossils in the US which included Homo naledi. The exhibit was called Origins: Fossils from the Cradle of Humankind. The exhibit ran from October 2019 through March 2020 (closing a bit early due to the pandemic). That was a tremendous learning experience and very rewarding to see people interact with the exhibit and react to seeing the "real bones" of ancient human relatives in person.  
Now, I am a Senior Archaeologist assigned to the Defense POW/MIA Accounting Agency (DPAA) from the Henry M. Jackson Foundation. I work with universities and other partners to support DPAA's efforts to locate remains of servicemembers missing from past conflicts.
I'm also a AAAS IF/THEN Women in Science Ambassador and published two pieces aimed at middle school readers, one about Homo naledi, and one is a comic book about archaeology in the Great Dismal Swamp.
Finding "Leti" after 250,000 years is incredible - what is the scientific importance of this discovery?
Because we've found so many bones of Homo naledi, it can be easy to forget just how rare hominin fossils are. Juvenile fossils (fossils of children) are even more rare because the bones are not as robust as adult bones and tend to decompose before becoming fossils or get destroyed through natural processes. And parts of the cranium (skull bones) are even more rare than that because the skull is a thin, hollow thing that crushes easily. So, to find so many pieces of a skull of child, with teeth, and so far back in a cave, is really special.
Leti can help us fill in the blanks about how fast Homo naledi grew up, and what they were like when they were young.
What questions does it raise in terms of where she was found? And do you have any theories about why she was in that part of the cave?
The main deposit of Homo naledi fossils is in the Dinaledi Chamber, 30 meters underground, about 200 meters from the nearest modern cave entry point. The Leti fossils were found even farther from the entrance in a very small passage.  
Were they placed there on purpose? Was the individual we're calling Leti special in some way? Did the bones erode there from someplace nearby? (They can't have travelled far because they are so delicate.) We still have a lot to learn about Leti and the Rising Star Cave, but we can hypothesize that Leti was placed into the cave after the individual died because we have good evidence of that happening with their conspecifics in the Dinaledi Chamber. That we found the bones in such a remote location certainly raises lots of questions.
That's the fun of research and exploration — there's always more to learn!
Can you share some advice for your women (and men) who are considering studying anthropology or careers in the field?
I have three pieces of advice:
Be curious. Take courses outside your specialty and outside your department. You may find new insights to your own research and new connections with other fields or other researchers.
Join a good team. "Good" doesn't necessarily mean publishing in all the top journals or having the fanciest grants. Find a team where you are respected, where you can respect your supervisor and your colleagues, and where you believe in the work you are doing. Amazing, important work is being done by excellent researchers who are kind, supportive, and generally good humans. Find them and join them. You and the field will be better for it.
Take an advanced first aid class. Even if fieldwork isn't in your future, having the skills to recognize and handle emergencies if 911 isn't available is so important and will strengthen any team you're on. If fieldwork is a part of your plan, consider a Wilderness Advanced First Aid or Wilderness First Responder course.