Social Sciences
Alumna Participates in National Geographic Society Expedition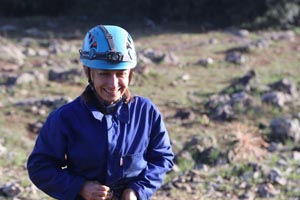 AU alumna Becca Peixotto believes anthropology should be comprehensible for everyone—not just scholars and researchers in the field. "Anthropologists have a history of not being very open; they can get very protective of their discoveries," says Peixotto. "As anthropologists, we make observations that can help other people understand the world around them. I want to create open access to the field so that we can help educate and impact the public."  
Peixotto, a 2013 graduate of the public anthropology master's program, recently had the opportunity to embrace her passion for outreach as a participant in the National Geographic Society's Rising Star Expedition. Led by Professor Lee Berger of the University of the Witwatersrand in Johannesburg, South Africa, the expedition brought together an international team of six researchers to excavate a newly discovered site full of early hominid fossils. Working intensely for three weeks last November, the team extracted fossils buried deep in the caves of the Cradle of Humankind World Heritage Site, an area 40 kilometers north of Johannesburg that is known for its fossil-rich content.  
Though the excavation and analysis of the fossils was the main goal of the expedition, Rising Star also aimed to engage the public through Skype conversations, blogs, and social media. "The whole idea behind Rising Star is 'Let's open the doors, let's have videos, let's have the excavators Skype with schools all over the world,'" Peixotto says. "It embraces the idea of open access science, and it gave us the opportunity to educate youth, local people, and other scholars about our scientific process.'"  
A former caving and rock climbing guide and an outdoor enthusiast, Peixotto was able to combine her work as an anthropologist with her love of the outdoors as a part of the expedition. "Suddenly, here was this opportunity to do some really technical, exciting caving and do archaeology at the same time," she says. "It was pretty exciting bringing both of my passions together: the academic interest I have in archaeology and my background in the outdoors."  
While Rising Star pushes the boundaries of public engagement and interest in science, Peixotto thinks the project explores other limitations, too. "I think that by doing this kind of research and exploration, we can really redefine how we're using technology," she says. "For instance, we used a device called the Artec 3D Scanner that allowed us to view and manipulate a real, 3-D image of an object. Typically it is used only in a lab to scan an artifact, but we took it into the caves and used it as part of the documentation process in the excavation. We figured out how to take what we already had and found a new way to make it work."  
Peixotto believes studying at AU enabled her to cultivate her passion for outreach and accessibility. "AU's anthropology department encourages public engagement by writing about theory-grounded work in everyday language and by publishing in venues that are widely available," she says. "I think this is really important, because one way we can share our observations with others outside our field is by translating our research into words and actions people can understand."  
Moving forward, Peixotto hopes to stay involved with Rising Star and plans to pursue her PhD in anthropology and archaeology. No matter where her career takes her, though, she wants to continue reaching out beyond the anthropology field to educate and inspire others. "I hope that whatever research I do in the future, I am able to take the concept behind public anthropology and engage more people in the research process," Peixotto says. "I want to make sure that the projects I'm working on have a big outreach component so that science, anthropology, and archaeology aren't just these things that happen far, far away, but are things that happen in your own backyard."