Research
Doctoral Student Becca Peixotto Explores the Great Dismal Swamp Archaeological expedition reveals history and culture of fugitive slaves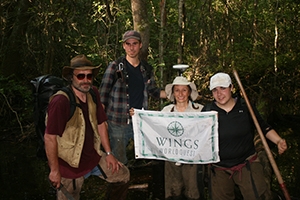 Last year at this time, archaeology doctoral student Becca Peixotto was making international headlines. She had played a critical role in excavating the fossils of a new human relative named Homo naledi. The discovery, deep in a cave in South Africa, was heralded across the world and is expected to change the way scientists think about human origins.
Now Peixotto is recovering artifacts from one of the greatest covert migrations in American history—thousands of African Americans who escaped from slavery and lived secretly in North Carolina and Virginia's Great Dismal Swamp until the end of the Civil War. These former slaves and their descendants are known as maroons.

The Great Dismal Swamp
The Great Dismal Swamp is still a large, wild place, filled with wetlands and vine-covered islands, as well as 200 species of songbirds, bears, poisonous snakes, and biting insects. But before modern development, it was once much bigger and wilder —more than one million swampy acres, with vegetation so thick that it was nearly impassable. It was an inhospitable and dangerous place. 
It was also a perfect place for people who didn't want to be found. This is why so many fugitive slaves fled there. From 1660 through 1860, they built secret settlements on islands within the swamp, hidden from the outside world and safe from slave hunters.
Peixotto and College of Arts and Sciences students Ella Beaudoin (BA anthropology '17) and Emily Duncan (BA anthropology '18) are working to help recover their story. Peixotto began this work five years ago with AU Assistant Anthropology Professor and Department Chair Dan Sayers, the first archaeologist to excavate the interior of the Great Dismal Swamp. Until Sayers began his work in 2004, the Great Dismal Swamp and the story of the maroons had been almost entirely undocumented. 
Sayers' work inspired Peixotto to write her American University public anthropology master's thesis about glass artifacts from maroon and enslaved labor sites in the swamp. "Dan has welcomed me to his Great Dismal Swamp Landscape Study team ever since my very first foray into the Swamp with field school," she says. "And he has always supported my efforts to expand the work he pioneered." 
Sayers points out that Peixotto's doctoral research has the potential to give us important new insights. "Becca is applying her remarkable archaeological skills and acumen to an area of the swamp we have never explored," he says. She is addressing questions about differences in interior communities across the vast swamp, as well as changes within communities, potentially across some two-and-a-half centuries. Becca's work is impressive in its scope and is anthropologically-focused archaeology at its finest."

The Work
Peixotto is focused on finding evidence of maroon communities in northern areas of the swamp. Earlier this year she identified possible sites. On one promising island several miles into the swamp, she conducted soil testing and shovel tests. And now she is collecting and cataloguing artifacts there.  
"From the artifacts we've already found, it's pretty clear that people have used this island for a very long time," she says. "They've had fires, created and sharpened stone tools, used clay pots, and even held something together with iron nails."
The artifacts also reveal that Native Americans lived in the Great Dismal Swamp before the maroons arrived. "We've found tools left by Native Americans prior to the maroons. Some date back to the Early Archaic Period," Peixotto says. She explains that the maroons found, reused, and repurposed artifacts left behind by earlier inhabitants. One example is a stone tool found at the latest site. Half of it is very ancient, but the other end has been sharpened much more recently—within the past several hundred years.
"Things like this are neat because they show us the time depth of people being in this area," Peixotto says.

Making Expeditions Possible
Peixotto's work in the Great Dismal Swamp is funded by a group of organizations including The Explorer's Club (Washington Group), the Archaeology Society of Virginia, WINGS WorldQuest, American University, and AU's College of Arts and Sciences. 
Peixotto was selected from a number of applicants to carry a WINGS WorldQuest flag on this expedition to showcase its historical and cultural significance. WINGS WorldQuest is a nonprofit organization that recognizes and supports extraordinary women in science.
Peixotto says she is thankful that the organization brings attention to her work at the Swamp—raising its visibility and potential for inspiring future generations of women scientists. "I hope that my work encourages girls to follow pursuits of exploration and discovery. And I hope the general public will come to expect more women scientists and explorers in these roles," she says.
For now, Peixotto is focusing her excavation work on one small part of the Swamp. She hopes to finish her fieldwork in upcoming weeks and then shift toward data analysis and completing her dissertation. But she says that are many years of research yet to do in the Swamp. Through her blog she hopes to continue to share the story of the maroons with people beyond traditional scholarly audiences. 
"It is important to me that what we do and what we learn in the swamp is shared beyond the peer-reviewed journals and scientific conferences," she says. "We are studying such an important and inspirational part of our American history, and so many people have never even heard about it."