Achievements
Big Award Season for the College of Arts and Sciences College students receive competitive awards across disciplines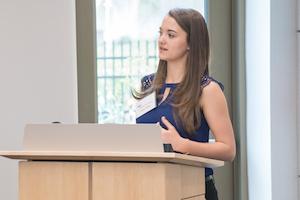 It was a remarkable spring season for College of Arts and Science students, who were awarded fellowships from some of the country's most prestigious programs. Students received scholarships and research opportunities from more than a dozen programs including the Fulbright Program, the National Science Foundation, and the Amgen Scholars Program.
Mackenzie Devilbiss (BS physics '18) National Science Foundation Graduate Research Fellowship
Devilbiss received the National Science Foundation Graduate Research Fellowship, which recognizes and supports outstanding graduate STEM students who are pursuing research-based graduate degrees. This award allows her to pursue a PhD in particle physics at the University of Michigan. In her application, Devilbiss wrote about her interest in recent high-energy physics experiments that have demonstrated the need to refine the standard model of particle physics.
"Mackenzie is one of the top physics students in her graduating class. Her mathematical skills are excellent, and she is focused, disciplined, and driven," said Associate Professor and Chair of Physics Nathan Harshman. "She is very independent and takes pride in her ability to master her courses."
Irena Volkov (BS neuroscience '19) Amgen Scholars Program
Volkov was accepted into the Amgen Scholars Program, which provides undergraduates the opportunity to participate in a 10-week biotechnology research program at Harvard University and to attend the Amgen Scholars Symposium at University of California, Los Angeles. Volkov's research focuses on the Lungs-on-a-Chip program, which aims to mimic influenza infection to identify and develop new therapies.
"Irena is an outstanding student," said Mark Laubach, director of AU's Behavior, Cognition and Neuroscience PhD Program. "She is interested in pursuing a career in the biopharmaceutical industry, and her participation in the highly selective Amgen Scholars Program will help get her started."
Hannah McNamara (BA sociology '18) Fulbright English Teaching Assistantship
Fulbright grants are designed to promote mutual understanding between United States citizens and people of other nations. McNamara was awarded a Fulbright English Teaching Assistantship to Malaysia. Her attraction to the topic was rooted in her own experience navigating intersecting identities as a Filipino American.
McNamara's interest in Malaysia began when she studied its ethnic diversity and identity politics in a School of Education class. Department Chair of Sociology Gay Young taught McNamara when she was a sophomore. "I was impressed by Hannah's capacity to communicate analysis of gender issues that are global as well as personal," said Young.
Amy Lau (BA international relations & economics '18) Rangel Fellowship
Amy Lau was awarded a Rangel Fellowship and will begin graduate school at Georgetown University's Master of Science in Foreign Policy program in the fall of 2018. Afterwards, she will have earned a place in the US Foreign Service as a foreign service officer. The program aims to address the issue of minority groups being historically underrepresented in the Foreign Service.
With dual degrees in international studies and economics, Lau was a particularly strong candidate for this award. "Amy is an enormously energetic, smart, and hard-working student," said Professor of Economics Ivy Broder. "I have taught more than 2,600 undergraduates at American University, and she is one of the most impressive."
Carly LaRoche (BS environmental science '18) Fulbright Study Research Program
LaRoche was accepted into the Fulbright Study Research program where she will travel to Indonesia to study forest conservation. Her research focuses on how restored mangrove forests perform ecologically, compared to pristine forests. Following the program, she will start her PhD at the University of Virginia.
"Carly's successes are the result of bringing to bear her formidable intellect and willingness to do the hard work of getting things done," said Executive Director of Center for Teaching, Research & Learning, Kiho Kim. While at AU, Carly was also awarded the National Oceanic and Atmospheric Administration-Hollings Undergraduate Scholarship and the Killam Fellowships Program at Mount Allison University in Canada.
Students also received the following awards:
Tonia Bell (BA mathematics & economics '20) Killam Fellowship     
Cala Coffman (BA French studies '21) Fulbright UK Summer Institute
Cynthia Cristobal (BA sociology '19) Gilman Scholarship
Melanie Delgado (BA public health '18) National Institutes of Health Undergraduate Scholarship Program Recipient
Belen Flores (BS/BA mathematics & justice and law '17)
Sofia Hinojosa (BA public health '19) Public Policy & International Affairs Fellowship
Cheldina Jean (BS environmental science '20) National Science Foundation Research Experiences for Undergraduates
Zizhan Luo (BA/BS international studies & environmental science '19) Udall Scholarship
Adam Majeski (BA international studies & public health '20) Boren Scholarship
Andrew Miller (BA public health certificate '20) Killam Fellowship
Rebecca Royer (BS mathematics and economics '15) National Science Foundation Graduate Research Fellowship
Emily Smith (BA K-12 education & musical theatre '19) Gilman Scholarship
Craig Stevens (BA anthropology '17) Marshall Scholarship & National Science Foundation Graduate Research Fellowship     
Ayan Warfa (BA public health '19) Gilman Scholarship
Applicants for these and other awards are supported by advisors in AU's Office of Merit Awards. For more information on this process, please visit https://www.american.edu/careercenter/meritawards/